Carnival Fantasy Facilities / On Board Activities
Dining / Dinner
Entertainment / Recreation
Gratuity Policies

Dining Rooms - 2
Grill
Ice Cream Bar
Pizzeria (Open 24 Hours)

No. of Dinner Sittings:
2

Usual Dinner Hours:
Flexible

Special Diet:
Available upon request

Dress Code:
Daytime: Casual / Evening: Resort wear to formal

Art Gallery
Bars/Lounges/ Night Clubs - 13
Casino
Library
Pay-Per-View Movies
Photo Shop and Photo Gallery
Pools - Outdoor - 3
Dining Team
$5.50 per guest/ per day

Bistro Service
$1.00 per guest/ per day

Cabin Steward
$3.50 per guest/ per day
Services
Shopping
Health and Beauty
Beauty Salon
Shore Excursion Desk
Shopping Mall
Health Spa (with whirlpools)

Athletic/Exercise Facilities
Business
Children
Aerobic and Exercise Room
Health Club
Jogging Track
Conference Center
Internet Connection
Baby Sitting Services
Child Counselors
Children's Playroom - 2
Kids Pool Area
Teen Center
Carnival Fantasy Onboard Experience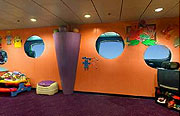 Identical in all but décor, Fantasy and her seven Fantasy-class sister ships (Ecstasy, Fascination, Imagination, Inspiration, Paradise, Sensation) always seem to have something of interest going on, and thus are ideal for the up-and-at-'em style cruiser. Carrying 2,052 passengers, the ships are big enough to provide a week's diverse entertainment, ample deck space for those whose idea of being entertained is basking in a warm sun shine glow, and separate facilities for passengers of all ages.

Having been launched in 1990, in today's whirlwind pace of change in the cruise industry Fantasy is not so much a dinosaur as she is a floating museum of what was once considered to be ultimate chic in cruise decor. That standard has thankfully changed over the years, but is worth taking a look simply to harken upon what once was. Neon, chrome, mirrors, Tivoli lights... they are all a part of the Fantasy decor, reflecting (pun intended) a time when the cruise industry looked upon Las Vegas as its greatest competitor for tourist dollars.

Sometimes the decor sets the mood for the people on board, making them lively and animated, and sometimes it feels starkly inappropriate, as on formal night when fashionably-dressed ladies & gentlemen stroll arm in arm through the neon lit corridors. In any case, this is an older ship, and as such one can expect to find bargain sailings on her, and if a week's escape to Fantasy-land is what you have in mind, this can be an especially affordable ship to provide it.

Ideal as it is for the sort of person who likes to have loads of activities planned, Fantasy also offers lots of out-of-the-way places to read or just contemplate the sea. During summer cruises, however, when there are hundreds of kiddies aboard, quiet contemplation might become a luxury reserved for another ship.
Carnival Fantasy Things to Do
Entertainment: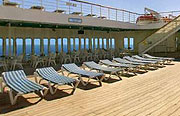 The prime entertainment venue is the 1,300 seat Universe Lounge is made to have a "Star-trek" feel. Karaoke draws big crowds to the Cats Lounge. The Electricity Dance Club stays open until the wee hours. A variety of live bands and individual performers entertain nightly along with its elaborate stage shows. Regardless of what sort of music you like most, you're pretty much assured of hearing it.

By day, there are bingo and Trivial Pursuit contests, not to mention such highbrow events poolside as the men's hairy chest contest.

Fitness:
With no fewer than 12,00 sq. ft. devoted to fitness and spa facilities, these ships are a dream come true for those who like to keep in shape during their cruise, and don't mind doing so in either uninspiring (the spa) or aggressively pink (the gym) surroundings. The gyms have a private trainer and 35 state-of-the-art exercise machines. There's a day-long schedule of aerobics, and stretching yoga, and Pilates classes (usually around $10 each), as well as body composition analysis and personal training sessions, $75 for 60 minutes. There's a fully jogging track and a volleyball court. Women who want to sunbathe topless will find secluded areas in which to do so.

Those who prefer to skip shore excursions and snorkel on their own can rent equipment for $26 for three days. The inescapable Steiner's of London operates the ship's spa, which offers lots of different kinds of massage – and pushes its beauty products rather more zealously than most passengers would prefer.

For Kids:
Carnival's celebrated Camp Carnival program offers a full schedule of supervised activities, from finger painting and singalongs for younger children to photography workshops, late-night movies, and pool parties for their older siblings. The ships' 2,400-square foot "Children's World" play areas are stocked with a computer lab, a climbing maze, an activity wall, and an assortment of toys, games and puzzles.
Carnival Fantasy Dining / Dinner
Cuisine:
From the best pizza afloat (available 24 hours per day) to haute cuisine in the main dining room, Carnival really delivers on the food front.

Restaurants:
Total Choice Dining provides for four dinner seatings in the main dining rooms, and alternative Bistro dining every evening. An increased number of service staff is required to provide all these options and Carnival has provided enough that service is generally prompt and the food served warm. Passengers are assigned a table for dinner in one of the two main dining rooms -- The Celebration on Atlantic Deck, mid-ship, or the Jubilee on Atlantic Deck, aft -- (these ships have a tradition of naming their dining rooms after other Carnival ships) at one of four seatings; 5:45 p.m. or 6:15 p.m. and 8 p.m. or 8:30 p.m. There are very few tables for two in either of the two main dining rooms; expect to dine with four, six, or eight fellow passenger.

You will typically have a choice of six starters, two salads, six or seven main courses (pan-fried fillet of red snapper, sweet and sour shrimp, rack of New Zealand lamb and Beef Wellington) and a few items that are on the menu every night for those who prefer the expected over the delightful. The menu also includes Spa Carnival selections for those trying to reduce their intake of calories, sodium, cholesterol, fat, or meat.

Additionally, the poolside Lido eateries are converted into Seaview Bistros between 6:00 p.m. and 9:00 p.m. each evening, offering buffet dinner with no reservations or advance notice required. The informal Windows on the Sea (T-shirts and shorts are OK) Restaurant on the Lido Deck offers both inside and poolside seating. All meals here are served buffet style, with open seating for all three meals.

Other alternative eating options include a 24-hour pizzeria, a complimentary sushi bar and 24 hour room service. Themed midnight buffets ensure that no passenger will be rendered sleepless by the rumblings of his empty belly.

Service:
Don't expect formality. Indeed, expect wacky dances after dessert – and then to come back to your cabin to find that your cabin steward, cutup that he or she is, has left a towel folded to resemble a dog on your bed. The hi-jinx never stop!

Tipping:
Carnival automatically adds $10.00 per person per day in gratuities to your Sail & Sign card unless you're under two years old, and if you're reading this, you're probably not. This includes $3.60 for the stateroom steward; $5.50 for the Dining Room team, and $.90 for service in the alternative dining rooms. Visit the purser's desk during the cruise to raise or lower this amount.

You may also prepay gratuities for all service personnel at a rate of $10.00 per person per day. On Cruises-to-Nowhere, gratuities of $10 per person per day must be prepaid.

A 15 percent gratuity is automatically added to all beverage tabs. Tip the maitre d', room service, spa, casino and other staff as you deem fitting.

Attire:
On the two "formal" nights per week, most men wear a dark suit instead of tux. By day, nearly everyone wears shorts, T-shirt, sneakers/sandals, bathing suit, and a hat.
Carnival Fantasy Ambience
Decor: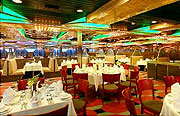 As the first ship of these eight ships now known as the Fantasy-class christened in 1990. In her day, Carnival decided to make Fantasy appear bigger in life by adding tons of glitz in the form of neon, chrome & mirrors. Though it was state of the art when created, by today's standards this ship is a relic that a serious cruiser can appreciate mostly as a step back in time to a period when cruise lines considered Las Vegas their most formidable competition.

Check out the Cat's Lounge for Andy Warholesque oversized art pieces based upon popular American logos such as Tide Detergent and Goodyear Tires. Or go to the Crystal Lounge to see what a high-tech open architecture ceiling would look like if all the conduits were replaced with neon strips.

Public Areas:
The ship consist of 10 decks with most of the public rooms concentrated on Atlantic, Promenade and Lido decks (decks 5,6 and 7). The cabins are mostly concentrated on decks one through four; Riviera, Main, Upper (which is actually a lower deck 3) and Empress decks.

The ships centerpiece is the soaring seven-deck high Grand Spectrum atrium. Here is where you will see Joe Farcus design at its most flamboyant. At the bottom is a rotating sculpture, while all around is a mixture of twinkling lights and enough neon to make Las Vegas shade its eyes. The two-level, 1300-seat Universe Lounge at the front of the promenade presents live production shows, comedians, magicians, and passenger talent shows, with exemplary sight lines and good seating throughout.

The ships' most fanciful decor is in such entertainment venues as the popular piano bar. In Fantasy's Cleopatra bar an enormous circular piano doubles as a bar for those who like to sing along. You'll also find a vibrant disco and cabaret lounges along the boulevard.

Other public areas include the Galleria shopping mall, the Virtual World arcade, and the ship's photo gallery. The Internet cafe offers access for 75 cents per minute; for those who plan to spend more time on the computer, there are 100 minute packages available for $50 (50 cents per minute) and 250 minute packages for $100 (40 cents per minute).

Cabins:
Because they were built just before the shift toward lots of verandahs, just the 26 demi-suites (250 square feet) and 28 full suites (400 square feet) have them.

Carnival's cabins are fairly spartan in decor and skimpy on amenities (a color TV with CNN, telephone, radio, no hair dryer, and a basket of "free-sample" toiletries), but among the largest in the cruise industry: inside measure 18 sq. ft, outside 19 sq. feet. Even in the minimum category inside or outside stateroom you'll still enjoy ample space. Cabins for four and five are understandably popular with families, and go fast.

Oceanview staterooms and suites offer a mini bar, bathrobes, and fairly large bathrooms with a hand-held shower and medicine cabinet. There are also 26 mini-suites (22 sq. feet plus 36 square foot private veranda) and 28 suites measuring 35 sq. feet with 7 sq. foot balconies.