Carnival Triumph Facilities / On Board Activities
Dining / Dinner
Entertainment / Recreation
Gratuity Policies

Cafe
Dining Rooms - 2
Grill
Ice Cream Bar
Pizzeria (Open 24 Hours)
Room Service

No. of Dinner Sittings:
2

Usual Dinner Hours:
Flexible

Special Diet:
Available upon request

Dress Code:
Daytime: Casual / Evening: Resort wear to formal

Art Gallery
Bars/Lounges/ Night Clubs - 17
Casino
Library
Pay-Per-View Movies
Photo Shop and Photo Gallery
Pools - Outdoor - 4
Video Arcade
Whirlpools - 7
Dining Team
$5.50 per guest/ per day

Bistro Service
$1.00 per guest/ per day

Cabin Steward
$3.50 per guest/ per day
Services
Shopping
Health and Beauty
Beauty Salon
Shore Excursion Desk
Wedding Chapel
Shopping Mall
Health Spa (with whirlpools)
Athletic/Exercise Facilities
Business
Children
Aerobic and Exercise Room
Health Club
Jogging Track
Conference Center
Internet Connection
Baby Sitting Services
Child Counselors
Children Center
Kids Pool Area
Teen Center
Carnival Triumph Onboard Experience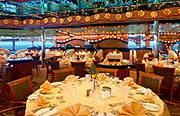 Carnival Triumph is the only true sister ship to Carnival Destiny, the first ship larger than 100,000 gross tons. By day, the decks are awash in people soaking in the sun with umbrella-laden cocktails, or dancing on deck to a live Caribbean band. But nighttime is when the action goes into high gear, with a variety of venues offering lavish production shows, a sing-along piano bar, dancing to live music or in the uber-disco and late-night adults-only comedy shows. After midnight most of the actions shifts to the casino or the disco, both remaining open into the wee hours.

Triumph appeals to a very wide range of passengers; singles, families with throngs of young children, and even retired couples. The passenger mix varies depending upon the season, but the number of kids onboard swells dramatically during the summer and school vacation periods.

The ship can feel crowded. It may list as 2758 passengers, but that is just counting beds on the floor. The maximum capacity is 3360 people, and when the ship is full a lot of those will be kids in rollaways and bunkbeds. Don't be surprised to find yourself in long lines at the shore excursion desk or the luncheon buffet. And finding your way around can take some doing, as the signs at elevators and stairwells are neither as numerous or as clear as you might hope.
Carnival Triumph Things to Do
Entertainment: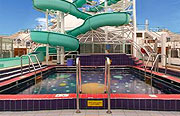 Along with regularly featured entertainers such as magicians, comedians, jugglers, ventriloquists, and various types of musicians (all at the Versailles Lounge), the Carnival's main entertainment is its Vegas-style show. This multi-million dollar production includes two singers, five male and nine female dancers, along with special guests, and is sure to leave you feeling well and truly entertained. The costumes alone cost half a million bucks!

Fitness:
Spirit's 13,700 sq. feet, two-deck gym is simply not to be missed, not even by the resolutely indolent. With floor-to-ceiling windows providing panoramic views, you may find yourself enjoying your time on any of the stairmasters, rowing and hydraulic weight machines, elliptical walkers, stationary bikes, or treadmills more than ever before. There's a jogging deck surrounding the forward Sky Deck; 15 times around equals a mile. Saunas and steam rooms are available for both sexes, along with an adult only whirlpool. Steiner's of London operates the nearby Beauty Salon Classique where guests can indulge in any beauty treatment or massage they desire. Ladies are very apt to feel like Greek goddesses in the salon, which features Doric columns and Greek vase motifs as part of a beautiful mural.
Carnival Triumph Dining / Dinner
Cuisine:
Carnival's food has improved greatly over the years and now compares favourably to that of more expensive cruise lines. You'll marvel at how well managed the everything is, especially considering that there are apt to be 3,400 passengers aboard. No one at sea serves better pizza, and available any time of day at that! Both the breakfast and luncheon buffets offer specialty food stations where you can make a custom order. The lunch buffet offers a marvelous salad bar. New Carnival menus include such upscale favourites as chateaubriand, lobster and rack of lamb. Unfortunately, desserts are not their forte and can be slightly insipid, except for the chocolate ones, the mere thought of which makes our mouths water.

Restaurants:
The food's mostly delicious, and you'll marvel at how well managed the service is, especially considering that there are apt to be 3,400 passengers aboard. The dining room service is hilarious during dessert, when waiters do foolish dances while balancing trays on their heads.

Carnival's Total Choice Dining offers four seatings for dinner (at 5:45 p.m., 6:15 p.m., 8 p.m. or 8:30 p.m in the main dining rooms). Alternative Bistro dining at an additional charge is an option every evening. In addition to the multiple dining room seatings, the poolside Lido eateries are converted between 6:00 p.m. and 9:00 p.m. each evening into Seaview Bistros, offering casual buffet dinner with no reservations or advance notice required.

Triumph has two dining rooms, London and Paris. Both comprise two separate levels (upper & lower), and are assigned according to cabin. Paris has the better ocean views as it is situated at the stern of the ship giving it 270 degrees of window space. In both dining rooms, diners in the open area on the lower level may have to speak up when they converse, as it can get pretty noisy; tables on both sides and on the balcony are a much better bet. There are a few tables for two, but expect to dine in a group of four or eight.

By day, most opt for breakfast and luncheon buffets in the ship's poolside Lido restaurant, which offers wonderful sea views and al fresco dining. You'll also find the ship's 24-hour pizzeria here, serving multiple varieties and Caesar salad. A very limited room service menu is available round the clock.

Service:
Carnival's staff is efficient and professional, but don't anticipate a lot of personal attention aboard a ship this size.

Tipping:
Carnival's automatic gratuities arrangement adds $10.00 per person (except children under two) per day to your Sail & Sign card. This includes $3.60 for the stateroom steward; $5.50 for the dining room team. and $.90 for service in the alternative dining rooms, amounts that can be raised or lowered at the purser's desk. You may also prepay gratuities for all service personnel at a rate of $10.00 per person per day. On Cruises-to-Nowhere, such prepayment is compulsory.

A 15 percent gratuity is automatically added to all beverage tabs. Tip the maitre d', room service, spa, casino and other staff as you deem fit.

Attire:
7-night cruises include two formal nights. Most men wear dark suits and tuxedoes are almost a rarity. If one needs formal wear it may be rented from the eveningwear shop. Daytime wear is strictly casual, but jeans aren't allowed in the dining room or anywhere after dark.
Carnival Triumph Ambience
Decor: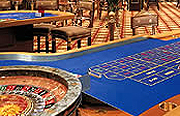 Triumph won't take long to steal your breath away; you'll no sooner have boarded than you'll find yourself in a soaring nine-story open atrium, with glass elevators rising to top (Pool) deck. Most of the lounges line the ship's "Promenade," which encourages strolling along to experience everything the ship has to offer or plenty of seating for those who enjoy just observing the passing parade of humanity.

The Big Easy piano Bar, where everyone sings along, is an atmosphere nearly guaranteed to remove even the stubbornest inhibition. The Venezia jazz and cabaret room is can be SRO at night. The Sports Bar features seven big-screen televisions that get ESPN Network, and video poker machines built right into the bar. The two-floor Hollywood Dance Club disco has no fewer than 500 video monitors. Additional public rooms include boutiques, a patisserie /cappuccino bar (where there's a separate charge), small library, video game room and wine bar.

Cabins:
When it's time to get away from it all, you'll do so in some of the largest cabins at sea.

The Destiny-class were the first Carnival ships to offer private balconies in a majority of the staterooms. Regardless of which stateroom you choose, it's likely to be bigger than on another line; outside standard cabins are an ample 220 square feet and include a sofa and coffee table, while inside cabins measure 195 square feet. Many have pulldown berths to accommodate third and fourth passengers, consequently making the ship popular with families and groups of singles. There are also 230 square-foot "family" cabins with connecting doors near the children's center.

Given Mr. Farcus's flights of fancy in the public areas, cabin décor is often surprisingly understated. Count on a color TV with CNN, ESPN, plus movies. The bathrooms are nice and roomy, with shower, hair dryer and a basket of complimentary toiletries. Oceanview staterooms and suites offer a minibar and bathrobes.

A small caveat: The soundproofing between staterooms is such that you're likely to get a better idea than you'd prefer of your neighbors' television-viewing preferences. A room too close to the casino will have you hearing bells and sirens all night long.