Costa Cruise Line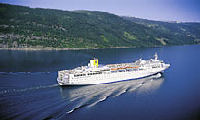 Costa Cruises enjoys the reputation of being Europes number one cruise line. The Italian company, with its North American headquarters in Miami, has been hosting passengers since 1948, when the line switched from its business of transporting olive oil to a passenger line.
Costa's eleven-ship fleet sails Eastern and Western Caribbean, Mediterranean, Northern Europe, South America, Baltic and Russia, and Transatlantic itineraries. The ships run the gamut from the intimate to the super-luxurious: 800-passenger Costa Marina and Costa Allegra to the 1,928-passsenger Costa Victoria. Costa has just launched the Costa Atlantica to guarantee the utmost memorable cruising experience. This 84,000-ton, 2,112 passenger cruise ship was delivered from Finlands Kvaerner Masa-Yards in Spring 2000.
Costas Italian-style hospitality offers clients in-depth travel experiences aboard as well as ashore. Passengers will bask in European-style luxury and sophistication, while sharing their experience with fellow cruisers who are just as likely to hail from Paris, Texas as Paris, France.