Crystal Serenity Facilities / On Board Activities
Dining / Dinner
Entertainment / Recreation
Gratuity Policies
No. of Dinner Sittings:
2

Usual Dinner Hours:
7:00pm & 9:00pm

Special Diet:
Notify Crystal Cruises at least one month prior to sailing of your needs

Dress Code:
Varies from Formal, Informal, and Casual depending on the day and time of day

Bars/Lounges/ Night Clubs - 4
Casino
Disco
Library
Movie Theater/Cinema
Piano Bar
Pool Bar
Pools - Outdoor - 2
Stereo in Cabins
Swim-Up Bars
Whirlpools - 2
Wine Cellar
Stewardess
$4.00 per guest per day (single travelers $5)

Senior Waiter
$4.00 per guest per day

Waiter
$3.00 per guest per day

Butler (Penthouse Decks)
$4.00 per guest per day

Maitre d'
At your discretion

Head waiter
At your discretion

Assistant stewardess
At your discretion

Room Service personnel
At your discretion

Specialty restaturants
15% added automatically

Bar Service
15% added automatically

Crystal Spa & Salon services
15% gratuity
Services
Shopping
Athletic/Exercise Facilities
Butler Service
Fax Service
Laundry/Ironing/Dry Cleaning Service
Photo Processing
Valet
Shopping Mall
Aerobic and Exercise Room
Fitness Center
Fitness Instructor
Sports Equipment
Weight Training Equipment
Crystal Serenity Onboard Experience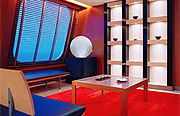 The focus on the ship is "the little things;" as in the details that make life just a little bit (or in some cases, a lot) more exquisite. The largest ultra-luxury vessel afloat, Serenity is 38% bigger than fleet mate Symphony, but carries only 15 percent more guests. The result is that there is simply no crowding, ever. Passengers savor more time at sea for lectures, educational programs, wine and food festivals. At night, there's lot of exceptional entertainment.

The extensive shipboard activity list comprises bingo, bridge, fashion shows, casino gaming lessons, and art auctions, but most passengers seem preoccupied with their Crystal Cruise Creative Learning Institute classes, on everything from wellness to business technology. Indeed, the spacious Creative Learning Institute may well be Crystal Serenity's principal advantage over Crystal Symphony. Several classrooms are located along an elegant wide corridor; one, dedicated to piano instruction, features Yamaha keyboards atop every table. The ship's Visions program provides expert speakers on topics as varied as current affairs and astronomy, wine and antiques.

While Crystal charges for alcoholic beverages that other luxury ships provide gratis, it stocks its staterooms with complimentary bottles of wine, plus spirits you can choose from a menu before setting sail. Soft drinks, bottled water, and specialty coffees are all free, and the penthouse suites come with butler service.
Crystal Serenity Things to Do
Entertainment: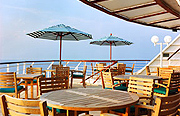 Watch recently released blockbusters and higher-brow fare in the Hollywood Theatre, which tends to run out of popcorn, so arrive early! At 4123 square feet, Caesar's Palace at Sea is the biggest casinos on any luxury ship. There are nightly dancing venues, a disco, and a karaoke lounge, though the more genteel may opt for classical recitals. There are also lavish Broadway style production extravaganzas, and extensive lecture and educational programs.

It's possible sometimes on Serenity to feel surrounded by early-retiring over-60 country club types, but younger or just friskier passengers will find no lack of excitement at the Pulse Disco until quite late. The Avenue Saloon's another good place to commune with fellow creatures of the night.

Fitness:
The 8,234 sq. ft. Crystal Spa, laid out according to feng shui principles, features cardiovascular exercise equipment, a weight room, an aerobics studio, treatment rooms, and two Wimbledon Courts for paddle tennis. The luxurious changing rooms offer lotions, shampoos, hair dryers, and bottles of water. You can enjoy marvelous views through picture windows while relaxing in the steam room. The Seahorse outdoor lap pool is flanked on both sides by outdoor Jacuzzis. The indoor/outdoor Neptune Pool can be covered by a retractable roof in inclement weather. There's a full wraparound teak promenade deck for walking and jogging on Deck 7, with no deck chairs to get in your way, and no lifeboats to compromise the view. The sports deck offers golf driving range, shuffleboard court and table tennis.

For Kids:
During the summer and school holidays, Crystal provides staff to coordinate activities for kids from three to 17. There's always a video arcade designed for the exclusive pleasure of older teenagers. Babysitters may be hired by the hour. Cribs are provided without charge.
Crystal Serenity Dining / Dinner
Cuisine:
The excellent main dining room offers a palate-delighting array of classic European menus, along with regional specialties of the various ports at which you'll call. Two superb alternative restaurants, Silk Road (Japanese) and Prego (Italian, as if we needed to tell you!) both require reservations. They're open from 6:30 until 10. There's no extra charge, unless you count the compulsory $6 gratuity.

Restaurants:
Enjoy wonderful views of the sea from the elegant 500-seat Crystal Dining Room. If the sun has set, revel in its murals and stained glass ceilings and murals. Ample aisles separate tables of a wide range of sizes. Assigned seating is the rule for main and late dinner; sit where you please for your full-service breakfast and lunch.

Renowned master chef Nobuyuki (Nobu) Matsuhisa oversees Silk Road, which includes a sushi bar, while Prego, with its Roman decor and northern Italian menu, is a labor of love by the equally noted restaurateur Piero Selvaggio. Getting reservations in these two alternative dining venues can seem difficult for those unaware that they're nearly empty on formal dining nights, and that tables are often available for those who don't get too hungry for dinner at eight, and can actually wait until nine, or even later.

Want alternatives to those two alternatives? Enjoy casual evening dining and themed luncheon buffets at the indoor/outdoor poolside area. The Bistro, a coffee and wine bar with attractive wicker-like chairs, Guy Buffet-designed china, and a perfect light-fare buffet, is a pleasant place to make new friends. The country-club style Lido Cafe serves breakfast and lunch. The Trident Bar & Grill offers casual poolside lunches all afternoon. Scoops Ice Cream Bar dispenses complimentary frozen sweets and fresh-from-the-oven cookies for those who left their diets ashore, while the food counter Tastes, open for late breakfast and late lunch, offers such unusual options as peanut butter and jelly French toast.

Feeling peckish between lunch and dinner? Enjoy afternoon tea in the Palm Court. There's also 24-hour complimentary room service, with menu selections from the main dining room, in the cabins.

Service:
The mostly European hotel and dining room staves take palpable pride in their very high level of professionalism. They're tirelessly solicitous, but you never feel for even a moment that their commitment to your pleasure is anything other than genuine.

Ship Services:
Both the front desk and email and Internet services are available round the clock. There are two private hospitality suites, and an onboard sales consultant who'll be very pleased indeed to book future Crystal cruises for you. The rather incongruous self-service launderettes are complimentary, as too are safe deposit boxes. There are complete laundry, dry-cleaning, and valet services, Complete photographic services include one-hour camera and video recorder rentals. Satellite telephone service is available, along, on request, with fax and secretarial services. There's a medical center, and air-conditioned tenders with toilets. Serenity's concierges usually have at least one Grand European Hotel in their past.

Attire:
By day, resort wear prevails. For evening, any one of three dress codes may be enforced. Formal dictates evening gowns for the ladies and tuxedos, dinner jackets or dark suits and ties for their gentlemen escorts. Informal allows evening or cocktail dresses or pantsuits for ladies and sport coats and slacks for gentlemen, with or without neckties. Casual calls for dresses and pantsuits for the ladies, sport shirts and slacks for gentlemen, who needn't worry about neckties and jackets.
Crystal Serenity Ambience
Decor: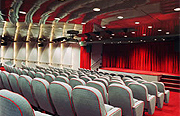 Understated elegance is the rule aboard Serenity. You'll drink wine from Riedel leaded crystal glasses, and sip tea from Wedgwood bone china. The dining tables are covered by Frette linen, and the handsome deck furniture is by Brown Jordan Mission Teak. The staterooms' wood accents and furniture tend to be dark, tastefully offsetting colorful curtains, wall coverings, upholstery, and bedcovers.

Public Areas:
One enters Serenity via the literally dazzling Crystal Plaza atrium, with its multiple levels of glass and chrome stairs and waterfall. Strangely, this lobby belies the absence of glitz elsewhere on the ship, which though elegant in what details are present, is surprisingly utilitarian.

Enjoy dancing and cabaret in the Stardust Club, cocktails and pianists in the Avenue Saloon, and cigars in the intimate, refined Connoisseur Club. Or savor breathtaking ocean views through the floor-to-ceiling windows of the tropical paradise Palm Court, where, at night, you can dance or attend classical recitals. The 10,410-square-foot Galaxy Lounge is Serenity's principal entertainment venue. It's worth noting that both the Galaxy Lounge and the ship's other main entertainment venue, Stardust Club, offer exemplary sight lines and comfortable theater- and table-style seating.

Twenty-four-hour Internet and email access are on offer in the Computer University@Sea and instruction lab, which also provide private workspaces and cubicles big enough to accommodate a single student and tutor. The Studio, unique to Serenity, offers an array of creative and informative hands-on instruction. There's a library with over 2000 books, videos, DVDs, and books-on-tape, and an art gallery in which purchasable artwork is displayed. The three shops on the 3692-square-foot Avenue of the Stars offer jewelry, clothing, and the inevitable specialty items at premium prices.

The Vintage Room, exclusive to Serenity, is a boardroom with its own wine cellar. Enjoy all manner of board and card games in the Bridge Lounge.

Cabins:
Serenity offers twice as many penthouse cabins as other Crystal ships. Moreover, 85 percent of Serenity's cabins have balconies, as opposed to Symphony's 65 percent. There are nine guest decks, with 548 staterooms on five of them, including four Crystal Penthouses with 1345-square foot verandahs. Thirty-two Penthouse Suites with 536-square foot verandahs, 64 Penthouses with 403-square foot verandahs, 82 (269-square-foot) Penthouse staterooms with verandahs, 286 (269-square-foot) Outside Deluxe Staterooms, and 80(225-square-foot) Outside Deluxe Staterooms.

The Penthouse Staterooms, exclusive to Serenity, include a remarkable array of amenities, such as butler service, binoculars, slippers, Riedel glassware, personalized stationery, baggage tags for priority delivery, welcome champagne and an in-room bar that's fully stocked before embarkation, flat screen TV, walk-in closet, and full Jacuzzi bathtubs. The four largest penthouse suites also have guest bedrooms, butlers' pantries, libraries, private workout rooms, cordless phones, and surround sound.

The cabins have roomy sitting areas, big closets with shoe racks, safes, both showers and bathtubs, double sinks, and telephones in the bathroom, which has it own raft of amenities, including magnifying makeup mirrors, and bathrobes. TV remote control offers a choice between 14 channels. There's a data port for laptop computers (access to the Internet is charged separately). The telephone system offers private voicemail and automated wakeup calls. Twin beds may be converted to queen-sized.