Disney Wonder Facilities / On Board Activities
Dining / Dinner
Entertainment / Recreation
Gratuity Policies
Cafe
Dining Rooms - 5
Grill
Ice Cream Bar
Room Service
No. of Dinner Sittings:
2

Usual Dinner Hours:
6:00PM & 8:30PM

Special Diet:
Low-sodium meals, Kosher meals, and certain other special diet-restricted meals will be available.

Dress Code:
No Shorts
Bars/Lounges/ Night Clubs - 4
ESPN
Movie Theater/Cinema - 2
Nautica/Spa
Photo Shop and Photo Gallery
Pool Bar
Pools - Indoor
Pools - Outdoor
Shuffleboard Courts
Sports Deck
Table Tennis
Video Arcade
Whirlpools - 2
Dining Room Server
$11.00 per guest per 3-night cruise

Dining Room Asst. Server
$8.00 per guest per 3-night cruise

Dining Room Head Server
$2.75 per guest per 3-night cruise

Stateroom Host/Hostess
$10.75 per guest per 3-night cruise

Dining Manager
your discretion

Room Service
your discretion

Dining Room Server
$14.75 per guest per 4-night cruise

Dining Room Asst. Server
$10.75 per guest per 4-night cruise

Dining Room Head Server
$3.75 per guest per 4-night cruise

Stateroom Host/Hostess
$14.50 per guest per 4-night cruise

Dining Manager
your discretion

Room Service
your discretion

Dining Room Server
$25.75 per guest per 7-night cruise

Dining Room Asst. Server
$18.75 per guest per 7-night cruise

Dining Room Head Server
$6.50 per guest per 7-night cruise

Stateroom Host/Hostess
$25.25 per guest per 7-night cruise

Dining Manager
your discretion

Room Service
your discretion

Dining Room Server
$36.75 per guest per 10-night cruise

Dining Room Asst. Server
$26.75 per guest per 10-night cruise

Dining Room Head Server
$9.25 per guest per 10-night cruise

Stateroom Host/Hostess
$36.00 per guest per 10-night cruise

Dining Manager
your discretion

Room Service
your discretion

Dining Room Server
$51.50 per guest per 14-night cruise

Dining Room Asst. Server
$37.50 per guest per 14-night cruise

Dining Room Head Server
$13.00 per guest per 14-night cruise

Stateroom Host/Hostess
$50.00 per guest per 14-night cruise

Dining Manager
your discretion

Room Service
your discretion

Services
Shopping
Beauty Salon
Dry Cleaning
Fax Service
Handicapped Accommodations
Laundry/Ironing/Dry Cleaning Service
Steam Room
Valet
Boutique
Duty Free Shops
Shopping Mall
Athletic/Exercise Facilities
Room Amenties
Basketball Court
Jogging Track
Hair Dryers
Private Showers
Safes
Telephones
TV/VCRs
Health and Beauty
Business
Health Center w/Massage and Treatment Rooms
Medical Center
Sauna/Steam Rooms
Conference Center - 3
Secretarial Service
Children
Ship Faclities
Baby Sitting Services
Child Counselors
Children Center
Nursery
Teen Center
Air Conditioning
Bow Thrusters - 3
Elevators - 12
Laundry Facilities
Stabilizers - 2
Stern Thrusters - 2
Wheelchair-accessible Cabins - 14
Disney Wonder Onboard Experience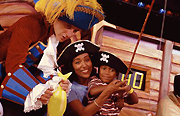 Wonder received a face lift in 2004 where a lot of the external furnishings were replaced and public space was re-purposed to make way for more adult focused activities such as a coffee bar with Internet access, a sports bar now a pub with ale available.

Disney characters are everywhere, whether we are talking about costumed actors dressed as Mickey and Dopey hugging your kids for a photo-op, or just referring to the wall-art, statues, banisters on the stairways and wallpaper. Even the ship's horn sounds "When You Wish Upon A Star" instead of the traditional blast as it departs a port. Still, grown-ups as well as kids are likely to enjoy this stunning ship, whose cabins are huge and beautifully decorated, because it has that Disney quality of attention to detail and finding something interesting in everything you see. Disney's private island, Castaway Cay may well provide the best private island experience of any cruise line. The dining program is marvelously innovative; you dine at the same table number with the same dining companions and servers each evening, but in a different restaurant. There's non-stop fun for all, including some adults-only lifestyle and enrichment courses with guest lecturers, wine tastings, cooking classes and a champagne brunch.

There are a few odd notes amid all the opulence here. The 24-hour coffee station has only styrofoam cups, and instead of butter, what you get with your meals is a margarine blend called "butterine." In view of the fact that everything from soup stock to all of the breads and pastries, is made fresh on board, this can only be adjudged as "oddly out-of-place".
Disney Wonder Things to Do
Entertainment: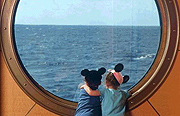 Though the Broadway-style productions aren't nearly as glorious as you might expect, given that Disney is so successful on Broadway with the Lion King and adult shows like Aida. But, nevertheless, they are known to be some of the most elaborate and expertly executed shows at Sea, with huge casts, wonderful costumes and jaw-dropping special effects.

Meanwhile, the performers in the family lounges also excel at getting everyone involved. Studio Sea, one of the liveliest spots aboard Disney Wonder, is a dance club where parents and children actually dance together. In 2005, a giant screen was added to the ship's funnel to show movies and broadcasts around the pool area.

The deck parties on Wonder are some of the most enthusiastically attended at sea, with the Pirates of the Caribbean one being a particular highlight.

For the grownups, there are adult-only nightclubs like the Piano Bar, a lively Jazz Club, and hilarious comedians in different lounges at various times.

Fitness:
Sports fans will high-five one another with glee at the sight of the ESPN Sports Box, located in a fake funnel, with live sporting broadcasts featured on TV screens throughout. There are three pools, one adults-only. Kids love the long water slide. The Vista Spa and Salon, operated by Steiner's of London, has hydrotherapy and all the usual massage and beauty treatments.

During the major refit in 2005, the spa and fitness areas were expanded, and now include three indoor/outdoor spa treatment rooms, new exercise equipment, a spinning class area, and private consultation rooms. Fitness-oriented passengers will love the gym, with more equipment than many passengers from small towns in the Midwest would find at their local YMCA. Additional sports activities include basketball, paddle tennis, volleyball. There is a quarter-mile separate track for jogging.
Disney Wonder Dining / Dinner
Cuisine:
Disney's cuisine has improved dramatically since the ship was introduced, to the point at which it can now be said to rival Princess's, with All-American and Continental fare likely to please all but the most sophisticated palate. Hot dogs, hamburgers, chicken, and pizza are available until 6 p.m., and late nights snacks are served in the adults-only lounges. Room service is available 24 hours. The exceptional adult-only Italian restaurant, Palo, has a refined and elegant atmosphere and levies only a $10 surcharge.

Restaurants:
In a system invented by and unique to Disney Cruises, each evening passengers dine in a different restaurant with a different theme. Parrot's Cay is tropical, Lumiere's art deco. In Animator's Palate, the room gradually changes from black and white to color during your meal. Palo, an alternative adults-only restaurant, is chic and elegant, but tough to get a reservation for; make your reservation soon after boarding and choose a time either early in the evening (6-6:30 p.m. or 8:45-9:30 p.m.).

A lot of past passengers have pronounced Parrot Cay, the vibrant Caribbean marketplace-themed dining room, their favorite place to eat. Here the waiters bellow Buster Poindexter's "Hot Hot Hot" and encourage any kids present, to the horror of at least those parents eager to instill in their progeny a sense of decorum, to join them in a mid-meal conga line.

The casual dining restaurant Topsider's, high up and aft, serves breakfast and lunch buffets and is open for dinner as well. Its location is splendid, but its indoor layout makes it difficult to navigate.

Those seeking a casual luncheon menu should head for the self-service Topsider Buffet, but only after being forewarned of its frequent long lines, especially on embarkation day. Limited 24-hour room service is also available.

On that hotbed of outboard activity otherwise known as Deck 9, there are two fast-food locations and a fruit and ice cream bar. Pluto's Doghouse serves burgers, fries, tacos and crisp, juicy chicken breast tenders loved by all non-vegetarians. Pinocchio's Pizzeria isn't nearly as popular, but Scoops, the ice cream station, is a major crowd-pleaser.

Service:
As you might expect, it could hardly be more upbeat, especially in children's areas.

Tipping:
Gratuities can be charged to your shipboard account. The recommended tipping guidelines per person (including children) per seven-night cruise are: Dining Room Server $25.75; Dining Room Asst. Server $18.75; Dining Room Head Server $ 6.50; Stateroom Host/Hostess $25.25

Dining Manager and Room Service tipping is at the passenger's discretion on all cruises. A 15 percent gratuity is automatically added to bar, beverage, wine, and deck service tabs.

Attire:
With the exception of the Captain's Dinner, at which formal attire (dress or gown for women and dark suit or tux for men) is recommended, evening attire for gentlemen is pants and shirt, skirts or pants for women.
Disney Wonder Ambience
Decor: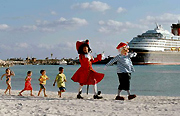 Sumptuous fabrics, wood, and hand-woven carpets and furnishings - and the Disney logo - are ubiquitous. The cabins are decorated almost identically, combining modern design with nostalgic ocean-liner elements such as a steamer-trunk closet for kids, globe- and telescope-shaped lamps, map designs on the bedspreads, and a framed photograph of Mr. and Mrs. Walt Disney aboard the ocean liner Rex sometime in the 1930s.

Some of Disney's vast archive of animation cels, production sketches, costume studies, and inspirational artwork is displayed around the ship.

Public Areas:
When passengers first arrive and enter the majestic Disney Wonder atrium what do they behold but a large bronze statue of the Little Mermaid. The Walt Disney Theater, which features Disney on Broadway-style productions, is popular at night (though, to be clear, you will not see the same shows Disney has on Broadway such as "The Lion King"). PG-rated Disney movies may be viewed in the Buena Vista Theater.

The ship's sophisticated, elegant adult-only areas are often all but deserted. The art deco Sessions piano bar has large circular windows and cozy leather chairs. Rockin' D Bar features country and western and rock every evening, while the adjacent Beat Street offers comedy. The main Internet center, adjacent to the Promenade, is small and cramped. Not so, though, Cafe Cove, a coffeehouse with books, newspapers, magazines, and a small Internet center, a favorite of most grown-ups.

Two large boutiques sell Disneyana. Logo apparel and suitcases, duty-free perfumes and liquor are also available. (Do note that you can bring your own booze aboard to enjoy in the comfort and privacy of your stateroom, but if you buy duty-free from the shop, it's held for you until the end of the cruise.)

Five areas are dedicated to kids and teens, three of them dating back to 2005, when three conference rooms were converted into the Ocean Quest play area for kids, with a scaled-down replica of the ship's bridge on which the more fanciful among them can vividly imagine themselves steering the vessel.

Cabins:
Most other cruise lines would call Wonder's standard cabins, in which up to four passengers can feel comfy, mini-suites. Standard inside and outside staterooms are a generous 173 sq. feet, while those with private balconies measure 253 sq. feet. Disney's popular suites can comfortably accommodate four or five people in their 291 square feet. One-bedroom suites are 591 sq. feet. Deluxe suites have two bedrooms and private concierge service. Standard stateroom amenities include color TV with CNN and Disney PG movies, a bath and a half, hair dryer, and good storage space for a short cruise.

In all but the least expensive inside cabins, Wonder's bathrooms are divided into a "bath and a half" configuration. One room has a toilet, sink and shelves for makeup and sundries; the other a shallow tub, shower and sink.