Holland America Amsterdam

Facilities / On Board Activities
Dining / Dinner
Entertainment / Recreation
Gratuity Policies
No. of Dinner Sittings:
2

Usual Dinner Hours:
6:00pm & 8:00pm

Special Diet:
Yes, with advance notice

Dress Code:
Appropriate attire
Bars/Lounges/ Night Clubs - 5
Card Rooms
Casino
Movie Theater/Cinema
Pools - Indoor
Pools - Outdoor
Radio - 4
Whirlpools - 2
Cabin Steward, Server and Maitre d'
$10.00 Per Person/ Per Day
Services
Shopping
Health and Beauty
Barber Shop
Beauty Salon
Cabins for Disabled
Clergy - 2
Handicapped Accommodations
Laundry/Ironing/Dry Cleaning Service
Photo Processing
Print Shop
Public Address Systems
Shore Excursion Desk
Boutique
Duty Free Shops
Infirmary
Massage Room
Sauna/Steam Rooms
Whirlpool Spas - 2
Holland America Amsterdam

Onboard Experience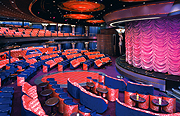 Amsterdam is not only a sister ship to the Rotterdam, she also shares the status of "flagship" with her, making Holland America the only cruise line to have two flagships. Obviously, they liked them both so much they just couldn't make up their minds. But if you look at the subtle differences in the slightly larger Amsterdam, she just might win you over because of her extra suites comprising an all-suite "Concierge Deck." This version of Amsterdam is the third ship named for the capitol of Holland. Like the Rotterdam, she has twin smokestacks, but she is the first Holland America ship with Azipod propulsion, giving her a top-speed of 22.5 knots.

Designed for extended voyages, including an annual world cruise, she offers the best of both contemporary and transatlantic liner-style cruising, tasteful elegance without pomposity. As flagship, she offers the most gracious and polished service of all the HAL ships, exemplary cuisine, and a gorgeous alternative restaurant.

Amsterdam is fully subscribed to Holland America's "Signature of Excellence" program, with enhancements to nearly every area of the ship. Staterooms now offer the best mattresses and duvets sold in Europe, flat screen TVs, and DVD players. There's early boarding and a choice of four dinner seatings. New service amenities include a new Culinary Arts Program with a demonstration kitchen for instructional cooking classes, expanded spa and fitness facilities, tableside waiter service at dinner in the Lido, new shore excursions and upgraded Club HAL Kids Centers. The Explorations Cafe is a combination reading and listening library, Internet center, and sidewalk cafe.

Returning passengers will see some of their favorite Holland America traditions remain free appetizers at cocktail hour, abundant fresh flowers throughout the ship, and chilled beer glasses.
Holland America Amsterdam

Things to Do

Entertainment: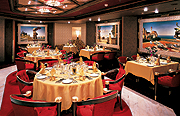 The Queen's Show Lounge's floorshows usually include an accomplished concert pianists of some renown, a comedian and one other act (magician, juggler, singer). Broadway style productions created by Anita Mann have gotten much better at Holland America the last few years, featuring enthusiastic choreography, singing and state-of-the-art special effects. The highlights of the shows on Holland America are usually the lavish costumes.

Fitness:
There is a full-service Ocean Spa (run by Steiner's LTD) comprising a hair salon and massage and facial facilities. The bright Fitness Center features modern exercise machines, free weights, a sauna and steam room and a juice bar. Fitness classes ranging from yoga to aerobics are offered several times a day. Some of the classes carry a fee that tends to be rather expensive. There are two swimming pools, one with a retractable dome, and four Jacuzzis. The tennis courts double as volleyball courts. Joggers and speed walkers can do their morning constitutional on the terrific wraparound Promenade Deck, also lined with wooden deck chairs for a wonderful spot for reading, daydreaming, or even snoozing in the grand style of the cruisers of decades long past.
Holland America Amsterdam

Dining / Dinner

Cuisine:
The main dining room, La Fontaine offers an attractive balance of contemporary cuisine and more traditional fare. While the menu always features something a bit bolder, such traditional favorites as grilled salmon and prime rib remain on offer, along with lighter and vegetarian cuisine.

The menu at The Pinnacle Grill at the Odyssey Restaurant is innovatively Italian, with a wine list offering several more excellent Italian choices than La Fontaine. The casual Lido will make you the best omelet you've ever tasted in the morning and occasionally offers Indonesian 'rice tables' or Indian curry stations at lunchtime.

Holland America's Lido buffets have always been among the best at sea, with a variety of salads, breads, hot entrees and sumptuous desserts.

Restaurants:
In the elegant two-level La Fontaine Dining Room, enormous glass windows overlook the stern, providing dramatic sea views. Most tables seat four, six, eight and ten. There are four dinner seatings at 5:45 p.m., 6:15 p.m., 8:00 p.m. and 8:30 p.m.

Evocative of a medieval Venetian palace, with candelabras, hand-painted murals, and romantic muted lighting, Amsterdam's 88-seat Odyssey was Holland America's original alternative restaurant. Now called The Pinnacle Grill at the Odyssey, it features Pacific Northwest cuisine and wines, and levies a $20 service charge.

Casual breakfast and luncheon buffet are served in the Lido restaurant, adjacent to the pool. A bright, cheerful place with separate salad, drink, deli, dessert, and stir-fry stations. You seldom have to wait, even during days at sea. Hamburgers and hotdogs are served poolside until 4:00 p.m.

Service:
Holland America's Indonesian and Filipino crew is warm and gracious, though not always as fluent in English as American and British passengers might prefer. Speak slowly and make sure they understand what you need, because they can be to polite to ask you to repeat yourself.

Attire:
Slightly dressier on formal nights than other Holland America ships, especially on extended voyages, many men wear tuxes though a dark suit is certainly acceptable; daytime attire is casual, but jeans and a tee-shirt will appear a little under-dressed.
Holland America Amsterdam

Ambience

Decor: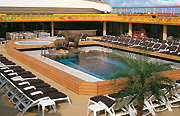 Contemporary, with a tastefully understated yet elegant decor, this gorgeous ship features Holland America memorabilia throughout the ship in addition to a $2 million collection of European and Asian art. Some of the most striking pieces are the "Terra Cotta Warriors," life-size human and equine terra cotta figures, reproductions of the ancient statues unearthed in Xian, China. Adjacent to the Explorer's Lounge, an enormous mural depicts the original Amsterdam built in the 17th century while the main dining room features a huge circular panel resembling stained glass.

Public Areas:
The layout of the Amsterdam is not much different from the rest of the Holland America fleet. The differences are mostly in the decor. With most inside public areas concentrated on two decks, few passengers have trouble finding their way around.

Boarding visitors are greeted by the nearly 30-foot tall Astrolabe clock tower at the foot of a three-deck high stairway. The main public areas feature mostly warmly colored upholstery and leathers, damask fabrics, mahogany tones, and gold accents, the ship feels at times like an elegant old hotel. The gorgeous two-level Queen's Lounge, more a nightclub than a theater, presents Amsterdam's lavish floorshows. Head for the banquettes for the best sight lines. The Explorer's Lounge offers cognac, cigars, delectable chef-designed chocolates and a string quartet at night. The Explorations Cafe (and Hudson Room within it) would seem more intimate if there weren't so many passengers passing through it all the time. The Crow's Nest, atop the ship, is an observation lounge by day and a disco after dark. Fresh hot popcorn is always available in the Wajang Movie Theater, where a selection of near first-run movies will be presented throughout the cruise (be sure to check the entire schedule, your favorite feature may or may not play more than once). The beautiful wood-paneled Erasmus library is almost as large as the casino. Three boutiques complete the public area. The popular Ocean Bar offers sea views.

Near the entrance to Amsterdam's Crows Nest, be sure to admire the Four Seasons sculptures originally created for the old Nieuw Amsterdam in 1938, and purchased back from a private collector.

Cabins:
Abandoning the bland beigeness of the older Statendam-class ships, the cabin decors features a much livelier palette of colors, including corals, mangoes, blues, and white. Holland America built Amsterdam VI with yearly world cruises in mind, which mindset is reflected in the most spacious cabins in the mid-price range, regardless of category. Amsterdam has four categories of staterooms: inside (192 square feet), outside (201 square feet), mini suites (229 square feet with 59 sq.ft. private verandah), 36 suites (393 square feet with 189 sq.ft. private verandah) and four penthouse suites (937 sq.ft. with 189 sq.ft. private verandah). The 120 Verandah Suites (230 square feet, excluding verandah) offer particularly good value.

All cabins have two single or one queen-sized bed, abundant closet and drawer space, and safes. The remote-controlled color TV's show closed circuit movies as well as CNN International. There is a small dressing table, couch and armchair. The bathrooms have hair dryers and lovely toiletry; only outside cabins have both bathtubs and showers. Some cabins have connecting doors for families preferring two cabins.

Suites and minisuites come with many perks -- large balconies, marble bath with whirlpool, TV/VCR, terry cloth bathrobes, personalized, stationery, complimentary laundry, high tea served in suite, free videos, cocktail party with the captain, feather pillows and special disembarkation privileges. All suite guests may avail themselves of a concierge staff who remain stationed inside the concierge-class lounge on the same deck. This lounge features DVDs, books and tempting snacks available to suite passengers. The concierge will assist passengers in booking shore excursion reservations, alternative dining reservations and any other matters that would ordinarily involve standing in a slow-moving line.

There are four self-service launderettes (a wash and dry cost $2 including detergent) featuring ironing board/iron and folding table.