Norwegian Star Facilities / On Board Activities
Dining / Dinner
Entertainment / Recreation
Gratuity Policies
No. of Dinner Sittings:
2

Usual Dinner Hours:
Freestyle

Special Diet:
Available upon request

Dress Code:
Resort casual to formal
Bars/Lounges/ Night Clubs - 7
Card Rooms
Jacuzzi - 3
Library
Movie Theater/Cinema
Nautica/Spa
Photo Shop and Photo Gallery
Pools - Indoor
Pools - Outdoor
Video Arcade
Cabin Steward, Server and Maitre d'
$10.00 per person / per day
Services
Athletic/Exercise Facilities
Health and Beauty
Beauty Salon
Cabins for Disabled - 20
Clergy
Aerobic and Exercise Room
Fitness Center
Gymnasium
Jogging Track
Sports Court
Sports Equipment
Hair Stylist
Massage Room - 9
Medical Center
Sauna/Steam Rooms - 2
Norwegian Star Onboard Experience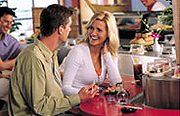 NCL has become synonymous with innovation in the cruise industry, and this is one of the newer NCL ships that proves it. As the the second ship purposely built to offer the "Free-style" concept of dining there are ten different restaurants onboard. Obviously, this is not a cookie-cutter cruise ship. There is a variety of accommodations, with many interconnecting cabins ideal for family cruising. Sixty-five percent of outside cabins have private balconies, while several inside facing cabins overlook the Grand Centrum. Open-seating dining is offered in the two main restaurants and the French, Japanese and Chinese alternative choices. Don't forget the Market Cafe Lido Buffet or the 24-hour Blue Lagoon Cafe. There's a wrap-around promenade, expansive kids' and teen facilities, a two-deck 1,000-seat show lounge, disco, cinema, casino, Roman Spa & Fitness Center, and observation lounge. The sports deck has a jogging track, golf driving range, and a court that basketball, volleyball and tennis enthusiasts alike can use.
Norwegian Star Things to Do
Entertainment: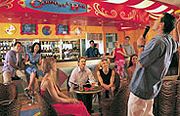 The Stardust Theater , with excellent sightlines, presents elaborate, colorful and sometimes even exciting shows. NCL's Las Vegas-style revues and staged Broadway musicals have been keeping Jean Ann Ryan Productions in chocolate and nylons for years. JAR shows generally feature themes like "Salute to Hollywood" or Broadway, or the Fifties. Whatever they are saluting, the shows offer ongoing medleys of popular songs, lively dance-steps, costumes that look like costumes, unusually tall dancers, and an adagio duet who perform beautiful pas de deux.

The aptly named Cinema & Auditorium offers movies throughout the cruise. The Sports Bar & Grill is almost always packed with sports fans gathered to ogle live ESPN broadcasts on banks of huge TV's. The inviting Topside Lounge offers panoramic views by day and a live band at night. There's music in disco at night as well, of course, with a D.J. spinning popular dance tunes.

Popular on-board activities range from craft lessons (beaded geckos!) to learning a foreign language (Spanish and Tagalog, the language of the Philippines) to games, trivia contests, and bingo. The casino, Star Club, offers a huge array of slots and table games. The art auctions are popular too.

Fitness:
The gym is small but well equipped. The fitness center contains two small swim-against-the-current pools. The two sexes have separate changing rooms, relaxation rooms, and steam and sauna rooms. The women's side is gorgeous and expansive, with a window-lined relaxation room along the port side. There are a couple of televisions and several comfy chairs and sofas. The Roman Spa, operated by Mandara (Steiner of London in disguise), offers treatments ranging from hot stone massages to body-cleansing wraps, albeit in tiny treatment rooms. The mid-range for massages seemed to be around $100, but specials are regularly mentioned in the Freestyle Daily, especially on port days.

The outside promenade on Deck 7 circles the ship and is the ideal place for a walking circuit; the Sports Deck has a running track (pleasantly unobtrusive, as it is set off from sunning areas by a wall; six circuits to a mile), basketball and volleyball courts, and a golf cage. Ping-Pong tables are located at the aft of Deck 11. The ship's Sports at Sea program offers logo items to those who complete their programs.

The one swimming pool on the Lido Deck, big enough for early-morning lap swims, is nicely laid out and attractive, but can feel a bit oversubscribed in mid-afternoon.

For Kids:
This ship is a dream come true for juvenile passengers, with approximately one-fifth of Deck 10 allocated to them. The kids' center itself is divided into several age-appropriate rooms. Then there is the video arcade to keep older children and teens distracted for hours, and a teen disco. The little folks' area features climbing tubes and tunnels, a ball crawl, and lots of soft toys, all in bright primary colors. There's an outdoor activity area and a crafts section. Splash Down is like an onboard water park, with a pool surrounded with caves and a mountain, two small slides that require entry through a tunnel, pirate's cannons that shoot water, and even a children's hot tub. An amphitheater has been installed between Decks 10 and 11 at the aft end so parents can sit and watch their kids play while getting hammered on drinks from the Raffles bar. There is no charge for the center, which welcomes children from age 2 to 16.
Norwegian Star Dining / Dinner
Cuisine:
This is a "Free-style" ship which means there are all kinds of cuisine available on abord at a variety of prices from free to $20 per person. The Sushi Bar offers all you can eat for $10, while Le Bistro, the signature alternative restaurant of NCL is $15 per person, and worth it.

Restaurants:
There are two main dining rooms onboard Norwegian Dawn; Aqua with its traditional table clothes and chairs, and Versailles which evokes the luxurious ocean liners of yesteryear with its hushed candlelit elegance, and stunning chandeliers.

NCL's "Freestyle Cruising" allows passengers to choose when and with whom to dine. Beyond the traditional dining rooms, there's Cagney's Steakhouse, on Deck 7 behind the Grand Centrum, which charges $20 per-person and serves steaks and chops and whole lobsters in a 1930s-ish setting. In Le Bistro, NCL's French restaurant (surcharge $15), appetizers include escargot in garlic butter, and a generous array of salads is offered. Order chocolate fondue -- chunks of fresh fruit served in a pineapple "boat" with a pot of melted chocolate to dip it in for dessert. The Thai/Japanese/Chinese Shogun ($12.50) serves gorgeous Asian-fusion dishes. The complex also includes a Teppanyaki room and sushi bar (a la carte pricing applies), and a Tatami Room where eight guests sit on the floor to dine.

The least impressive of Spirit's dining areas, The Lido buffet, often has long lines. In the evenings, it's converted into a fee-free Italian restaurant -- La Trattoria.

Late-night snacks are available in the casino. The Blue Lagoon serves up burgers, fish and chips, and wok dishes 24 hours a day. Room service is simple, with mostly cold items, exceptions being ramen noodle soup, made-to-order pizza, and grilled cheese sandwiches.

Service:
The staff, recruited from all over the globe, is generally attentive and pleasant.

Tipping:
NCL automatically adds a fixed service charge of $10 to the shipboard accounts of passengers over 13 to make service personnel feel appreciated; children between three and 12 are charged $5. Those under three get off scot-free.

Attire:
The designated dress code is "resort casual," which for ladies means sundresses, blouses, sweaters, slacks and skirts, and for their male companions shirts with collars, such as polo shirts, and khakis or trousers. Dressing up for formal nights is optional, as informal attire is permitted in several areas, but jeans, shorts, T-shirts, swimsuits and beachwear are forbidden in the restaurants after 5:30 p.m. On the one formal night per one-week cruise, most men say to hell with it and put on a dark suit instead of a tux.
Norwegian Star Ambience
Decor: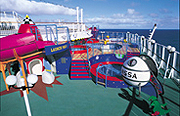 While there is just enough neon and gilt to remind you are on a cruise ship, each room on the ship truly has its own flavor (appropriate for a ship with 10 restaurants).

Public Areas:
The six-deck-high central atrium, the Grand Centrum, is the ship's social focal point. A black marble floor leads to a grand and elegant staircase, which ascends to the shops above, and to Carousel Bar & Nightclub, which features music in the evenings. There are upholstered chairs and divans for conversation on the starboard side of the Grand Centrum, and, on the port side, the Java Cafe, a small lounge serving coffee, cakes, cookies and other bar drinks. Behind the staircase is a black marble fountain that can be admired from the atrium's three glass-enclosed elevators as they rise to higher floors.

Spinnaker Lounge, located on Deck 12 forward, is Spirit's vast, bright observation lounge. Floor-to-ceiling glass surrounds it on three sides. A small bandstand and dance floor are in the middle, a large bar near the entrance; a circular stairway descends to a bridge viewing area, and a computerized navigational chart on a raised platform allows you to ensure that you're heading in the right direction.

Planet Kids Childcare Center and the kids' pool areas are as good as you'll find on any cruise ship this size. A virtual shipboard amusement park, it features tunnels and tubes, a pool complex with slides and fountains and pirate muskets blasting water, and the best game arcade on the seven seas.

Cabins:
There are six basic cabin types: insides, portholes, windows, balconies, junior suites and suites, all of which feature more assertive colors than the public areas. Indeed, the bedspreads are downright garish. Almost all of the rooms on this ship are interconnecting, making them ideal for friends or family groups. Double metal doors (as opposed to the single composite doors in most other ships) minimize sound seepage between adjoining rooms. But although they are virtually soundproof from adjacent cabins, cabins on Deck 11 can be particularly noisy, with scraping chairs from the Lido Deck midship and aft, or loud nighttime music from Galaxy of the Stars forward.

Outside cabins have a large picture window. Balcony staterooms have a full-wall sliding glass door, floor to ceiling, side to side, and an exterior balcony enclosure made of glass. Balconies are narrow (40 inches), but wide enough to accommodate a white plastic chair, a short lounger and a little table.

Because the ship was designed and built for the Asian market, chairs and handrails, the bathroom sink is lower, and the beds are all lower than most strapping native English speakers are accustomed to, and the furniture just slightly smaller. It isn't that someone's slipped something in your drink!