Norwegian Sun Facilities / On Board Activities
Dining / Dinner
Entertainment / Recreation
Gratuity Policies
No. of Dinner Sittings:
2

Usual Dinner Hours:
Freestyle

Special Diet:
Available upon request

Dress Code:
Resort casual to formal
Bars/Lounges/ Night Clubs - 4
Casino
Disco
Library
Pools - Outdoor - 2
Video Arcade
Whirlpools - 5
Cabin Steward, Server and Maitre d'
$10.00 per person / per day
Services
Shopping
Children
Beauty Salon
Chapel
Handicapped Accommodations
Shopping Mall
Children's Playroom
Kids Pool Area
Teen Center
Norwegian Sun Onboard Experience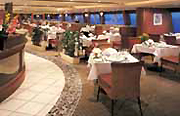 That sharp mass intake of breath you heard in 2001 may well have been inspired by Norwegian Sun's debuting with no fewer than nine restaurants, the first ship purpose built for Free-style cruising. Or maybe it was that the ship shared a glitzy dual premier ceremony in Miami with Norwegian Star; the first time a cruise line ever launched two new-builds simultaneously.

Norwegian Sun's interior is stunningly beautiful most of the time. Indeed, on entering her circular marble lobby, you'll feel your eyes going immediately to the winding stairs in the center that lead up the atrium, with its glass-enclosed elevators. Intimate sitting areas with floor-to-ceiling glass walls on two levels let you comfortably contemplate the world outside.

As is par for the NCL course, the Norwegian Sun feels spacious throughout, which isn't to deny that its public rooms can feel quite intimate when the whim takes them. No fewer than a dozen bars and lounges offer a variety of themes and decor. In the Sports Bar, CNN and taped sports events play all day. Sip a cappuccino while you check your email in the Internet Cafe, self-administer retail therapy in the large gift shop, or try to summon Lady Luck in the Sun Club Casino. There are lots of daily activities, including the inevitable bingo, aerobics classes, dance lessons, fashion shows, and make-over demonstrations. At night, there's dancing, cabaret, or pianists in three lounges, and high-kicking Broadway-style production shows in the two-deck Stardust Lounge.

The fitness-obsessed will want to avail themselves of the basketball court, the well-equipped gym, or aerobics classes. Parents can entrust their progeny to the ships' Kids' Counselors, who'll keep a close eye on them as they enjoy the Kids' Corner and disco, the video arcade or kids' pool.
Norwegian Sun Things to Do
Entertainment: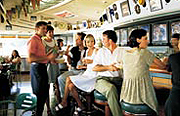 The Sun's resident theatrical troupe, the venerable Jean Ann Ryan dance company, offers two spectacular staged Broadway-style musicals in the Stardust Lounge, the front of whose balcony you should avoid unless you want to watch the show through a railing.


Fitness:
Forward on the Pool Deck, the Body Waves fitness center has one room filled with up-to-date equipment and a view, and another for aerobics classes. The equipment feels sort of crammed in, and there's enough room in the free weight area for only one bulked-up worker-out. The Steiner Body Waves Spa includes massage and steam rooms and full service beauty salon. Treatment prices may at first seem exorbitant, but there are always specials, especially on port days. Two pools and four hot tubs on the Pool Deck are sheltered from the elements. One deck up on Sports Deck, kiddies will find a children's splash pool while Mom and Pop enjoy the hot tub located forward, the full-size basketball/volleyball court, a golf driving net, batting cage, shuffleboard, and a jogging track.

For Kids:
NCL prides itself on its parent-and-kids activities, a great children's program and even group babysitting until very late. Located forward on Deck 7, the Kid's Corner is a series of three rooms with age-appropriate activities in each. Fretful or doting parents can watch their little darlings through portholes.
Norwegian Sun Dining / Dinner
Cuisine:
The nine dining venues offer a wide variety of cuisine from around the world; be forewarned that the sheer variety of the menu will entice the weak-willed to overindulge. One of the two main dining rooms, Seven Seas, aft, serves "contemporary" cuisine, while Four Seasons, amidships, serves "traditional" cuisine. Which is to say that Seas would probably grill your lobster where Four Seasons would steam it and serve it with drawn butter. Both restaurants' lamb and filet mignon are especially good, the desserts to die for. The sushi bar in the Ginza restaurant is the equal of most you'd find ashore. The French cuisine in the reservations-only Le Bistro is on a par with the desserts in the main dining room.

Restaurants:
Located on Atlantic Deck, with wonderful sea views through picture windows, main restaurants the Four Seasons and the Seven Seas open from 5:30 p.m. to midnight, with tables available until 10:00 p.m . The 24-hour buffet-style Garden Cafe/Great Outdoor Cafe on Pool Deck is for the more casual diner. Specialty restaurants at which no surcharge is applied include the Ginza (Japanese, featuring both teppanyaki and sushi), East Meets West (Californian, Hawaiian and Asian), Pacific Heights (light dining) and Las Ramblas (Spanish, with a mediocre tapas bar, Mexican beer, and Latin entertainment).

Reservations and a $10 charge are required at Il Adagio and Le Bistro. The elegant narrow Il Adagio has booths for two or four along a wall so that everyone has an ocean view. Le Bistro features table-side cooking, though not of everything.

Service:
The staff, recruited from all over the globe, is generally attentive and pleasant.

Tipping:
NCL automatically adds a fixed service charge of $10 to the shipboard accounts of passengers over 13 to make service personnel feel appreciated; children between three and 12 are charged $5. Those under three get off scot-free.

While further tipping is not compulsory, NCL recommends a 15 percent gratuity for bar service and urges the beneficiaries of concierge or butler services to come up with a little something extra. All else is at the passenger's discretion.

Attire:
Those who prefer to have everyone dressed up at the same time, or who are likely to be discombobulated by others' slovenliness, should think twice before booking this ship. Passengers can wear pretty much what they please at night, provided they don't want to wear T-shirts and bathing suits.
Norwegian Sun Ambience
Decor: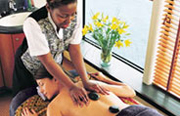 Norwegian Sun is a well-lit, sparkling ship with lots of light and bright colors lending it a sense of carefree, lightness of being. You can feel the warmth of the sun as you walk near her expansive windows, and rooms seem to blend into one another rather putting contrasting themes together. Most of the woods are light maple with muted colors in the fabrics.

Public Areas:
The ship is mostly very easy to navigate, with most public spaces located on Decks 5, 6 and 7, plus the pool/spa/Lido Deck (11) and the alternate restaurants and Sun Deck (12). A small but soaring atrium is located toward the forward end, with two banks of glass-enclosed elevators rising to Deck 12. The Deck 5 atrium area houses the front desk, concierge, shore excursions, and the Java Cafe (specialty coffees and pastries for an a la carte fee), plus the entrance to the Four Seasons Restaurant.

There are two main elevator banks, one forward of the atrium and one aft. Those using the latter to get to the pool deck (or the Great Outdoor Cafe) have to pass through at least one restaurant en route, a bother during busy dining times. Nearly as quirkily, but not nearly as annoyingly, the whole atrium area of Deck 6 is devoted to the Internet Cafe.

Deck 6 is both the prettiest, and with the best personality, with Dazzles, the main disco-nightclub just aft of the atrium; Windjammer Bar; and Havana Club, the cigar bar. The elegant photo gallery, in a wide corridor with dark walnut wood panels and blue carpeting, opens out onto the exterior promenade, along which you'll find the well-stocked library, meeting rooms. and card rooms. At the aft end you can center the Stardust Lounge. You'll find that the shopping arcade on Deck 7 offers for sale logo items, toys, clothing, jewelry, clocks, knickknacks, snacks and duty-free liquor and cigarettes, not to mention high-priced jewelry.

One of the prettiest spots on the ship, predictably, is the Observation Lounge, which offers a panoramic ocean view. The Sports Bar has comfortable booths, ocean views, and a great many video monitors, not to mention NCL's first non-alcoholic juice bar. Each of the ship's other bars has its own unique ambiance, from the stylishly elegant Champagne Bar to the nautical pub atmosphere of the Windjammer to the appropriately cigar-smoke-filled Havana Club. Indeed, there is something for every mood, including Dazzles nightclub, which offers shows and dancing to live music as well as disco.

Cabins:
When Norwegian Sun's original design was adapted for Freestyle Cruising, cabins were enlarged and more storage space was added. 67 percent have an ocean view, 432 in all. Insides range from 147 to 191 sq. ft. and ocean view from 145 to 170 sq. ft. All but a few outside cabins on Viking, Fjord, and Norway decks have balconies measuring 150 to 173 sq. ft. plus a 48 sq. ft. balcony.

The four suite categories start with mini-suites of 267 sq. ft., and range up to the three-room Owner's Suite, 829 sq. ft., complete with private hot tub on the balcony. Suite guests enjoy the ministrations of a dedicated concierge and hot breakfast options, including eggs, bacon, sausage and oatmeal. Moreover, they can order lunch and dinner off of the main dining room menus during dining times.

Each pleasantly decorated cabin has a small sitting area, TV/radio, telephone, modem connection, refrigerator, safe, and individual thermostat. A daily movie program is available on the TV, plus CNN and another satellite channel. The surprisingly spacious standard balcony is covered with a bright blue filigreed rubber mat. There's a small table and two attractive, very uncomfortable cafe-style chairs.

The pre-molded bathrooms in standard guestrooms are clinical-looking, but very functional, though nobody looks very good in bright fluorescent light.