Pacific Princess Facilities / On Board Activities
Dining / Dinner
Entertainment / Recreation
Gratuity Policies
No. of Dinner Sittings:
2

Usual Dinner Hours:
Personal Choice, 6:30pm & 8:30pm

Special Diet:
Available upon request

Dress Code:
May vary from Cruise Casual to Formal.
Bars/Lounges/ Night Clubs - 4
Card Rooms
Casino
CNN
Library
Nautica/Spa
Photo Shop and Photo Gallery
Pool Bar
Pools - Outdoor
Whirlpools
Suites and Mini-Suites
$11.00 per passenger per day

All Other Staterooms
$10.50 per passenger per day

Services
Shopping
Athletic/Exercise Facilities
Beauty Salon
Dry Cleaning
Laundry/Ironing/Dry Cleaning Service
Duty Free Shops
Fitness Center
Jogging Track
Pacific Princess Onboard Experience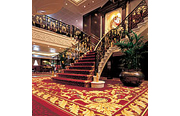 Pacific Princess is nothing like the original which was often the featured ship of the original series "Love Boat." It is the former Renaissance Cruises' not-so-romantically named R3. It was picked up by Princess in the aftermath of the Renaissance bankruptcy and deployed to the South Pacific where it sails six months for Princess Cruises and six months for British-based sister company P&O Australia.

The ship may be small by contemporary standards, but still sports an unusually high (73 percent) proportion of cabins with balconies, and plenty of alternative dining venues. The decor is mostly dark red curtains, crushed velvet furniture and dark cherrywood trim. It aspires to be elegant, but ends up being more cozy.

But you aren't there for the ship, you are there to see one of the most remotely beautiful places on earth; the South Pacific including Tahiti, Moorea, Bora Bora and more. They offer water sports, water sports, and more water sports, and a variety of four-by-four Jeep rides. By and large, you'll find most activities accessible to the ship's mostly over-60 clientele, though more adventurous activities such as helicopter tours and dolphin chasing are also on tap.
Pacific Princess Things to Do
Entertainment: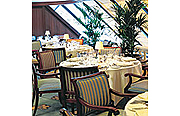 The 358-seat Cabaret Lounge presents shows performed by a team of singer/dancers, as well as performances by comedians and magicians. On some itineraries, there's a local folklore show. On cruises to French Polynesia cruises, such staple activities as bingo, bridge, and dance lessons are sharply curtailed because most of their potential participants are ashore. While you're docked in Raiatea, don't miss the musical extravaganza presented by several generations of locals.

The small casino has 30 slot machines and tables for blackjack and roulette. The Nightclub disco is a firm favorite of any insomniacs aboard.

Fitness:
The faintly exotic Lotus Spa, Salon, and Gym, operated, inevitably, by Steiner of London, offers a program of fitness and wellness. The fitness center, whose wall of windows makes it seem bigger than it really is, is well-equipped, with treadmills, bikes, and several weight machines. There are two steam rooms (for those who aren't hot enough in this part of the world to begin with!) and a walking/jogging track that circles the top of the ship. Instead of a 360-degree promenade, there are, on Deck 5, deck areas both port and starboard.

There's virtually never a wait for either of the two poolside Jacuzzi whirlpools, hardly surprising given how sweltering it can get in the South Pacific.

For Kids:
With over-60s predominating, this just isn't a cruise for young children; there are no dedicated kids and teens centers, except during peak holiday periods, when the Princess Kids program goes into effect for 20 or more minor passengers. That said, the ship's activities staff makes a real effort to keep amused the few kids it does get.
Pacific Princess Dining / Dinner
Cuisine:
The various dining areas offer a wide variety, the breakfast and lunch buffets being especially varied. The alternative restaurants are terrific, but there's a surcharge.

Restaurants:
As is the tradition on all Princess ships (and bless them for it), there is food available 24 hours a day. On this small ship originally designed to have one main dining room, a buffet and two specialty restaurants, someone went to extraordinary trouble to make dining about as confusing as possible. That doesn't mean the food isn't good, though. The very traditional Club Dining Room offers open seating for breakfast and lunch, and two seatings for dinner, when passengers are assigned tables and tablemates, at 6 p.m. and 8:15 p.m. There are only a few tables for two.

One of the alternative restaurants has been kept as such, but changes its identity every other night, beginning as the traditional Princess favorite, Sabatini's Trattoria, for Italian multi-course dining, and then on the next night becoming the Sterling Steakhouse, the carnivore's delight. Both levy a fee, $15 for Sabatini's and $8 for the steakhouse. This venue stays open until 10 p.m, closes for an hour and then re-opens as a bistro, and doesn't close until 4 a.m. The very casual Panorama Buffet serves up breakfast and lunch, including a pizzeria, BBQ, and an ice cream bar, and becomes the Panorama Pizzeria from 5:30 p.m. to 12:30 a.m., but serving nothing only pizza (which is to say, no salads or antipasti).

Room service is available, of course, around-the-clock. And a highly recommended late-night eating special event is the poolside Polynesian buffet.

Service:
The staff, from all over the globe, is helpful and attentive.

Tipping:
Regardless of which dining plan you choose, you'll be charged $10 per person per day for dining and stateroom personnel, even if you're a child. Consult the purser, at the reception desk, about raising or lowering this amount. All beverage tabs automatically include 15-percent gratuity. Tip the spa, casino, and other staff as you deem fit.

Attire:
Considering that your destination is the South Pacific, you'll want to pack a hat, sandals, sun block and a bathing suit. Grass skirts and loud Hawaiian shirts are at your own discretion. Aboard cruises of 10 to 14 nights, expect two formal nights and five to 12 "smart casual" evenings. Resort casual is the rule by day.
Pacific Princess Ambience
Decor: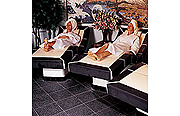 Only the observation lounge/nightclub has been significantly refurbished since Tahitian Princess left Renaissance, though the characteristic comfortably aristocratic feeling has largely retained.

Public Areas:
The area most reminiscent of a classic ship is the purser's lounge area on Deck 4, featuring a grand staircase reminiscent of the Titanic. The lounges and bars are all comfortably inviting, with the Club Bar attracting most guests. There's a Polynesian nightclub (which old Renaissance passengers will be amused to recognize as the sports bar, lightly remodeled), an Internet caf?, and a remarkably popular self-service laundry with four washers and dryers, two ironing boards, and free soap. The library has a faux fireplace, overstuffed couches, and walls lined with cherry-finished bookshelves, even though it could use a few more books published after the ship changed hands.

The Internet room, do note, has only six workstations. And if you're accustomed to broadband at home, you'll find the connection maddeningly slow. Moreover, getting help from the staff isn't likely.

Cabins:
Of 308 outside cabins, 73 percent have a balcony. There are 26 inside cabins, four of them wheelchair-accessible (if available, these are some of the most spacious "bang for your buck" cabins, though they are inside and dark, they are incredibly roomy. Pleasantly furnished in Wedgwood blue fabrics and carpeting, with yellow drapes over the floor-to-ceiling windows, the staterooms are pleasant enough, but the suites are worth the extra money for the extra breathing room they provide, especially in the bathrooms. Ample closet/drawer space, a (woefully substandard) hair dryer, a personal safe, and color TV on which you can watch CNN, MSNBC, and Princess' own onboard news channels are all standard amenities. The smaller cabins have a bathroom with shower, while suites and owner's suites have bathtubs too.

In private veranda cabins, don't be shocked to find Astroturf where you might reasonably have expected teak. Inside cabins are the smallest at 158 sq. feet. Outside staterooms, from 146 to 206 sq. feet, have either portholes or big picture windows. Outside cabins with private balcony are 216 sq. feet, including a 45 sq. ft. balcony. Mini-suites with private balconies are a roomy 322 sq. feet, including a 17' x 4.5' balcony with two chairs and a table. Veteran voyagers, especially those accustomed to other lines' suites, are likely to find the bathrooms almost satirically tiny, virtually without counter space.

Two forward suites facing the front of the ship are view-less. The Category A Owner's Suites, ranging from 786 to 962 sq. feet, are all located either completely forward or aft. Forward owner's suites numbers 6002, 6003, 7004, 7005) have direct sight lines of the rope deck on the front of the vessel. And if you're in a forward cabin on Deck 6, you'd better hope you like the orchestra that performs (and rehearses!) in the Cabaret Lounge, as you're right above it, and will be hearing a lot of them!

What we like most about the ship's balconies is that they're wrought iron, and insert no glass between you and the view.