Sea Princess Facilities / On Board Activities
Dining / Dinner
Entertainment / Recreation
Gratuity Policies
No. of Dinner Sittings:
2

Usual Dinner Hours:
Personal Choice, 6:30pm & 8:30pm

Special Diet:
Available upon request

Dress Code:
May vary from Cruise Casual to Formal.
Art Exhibition and Auctions
Casino
Library
Movie Theater/Cinema
Photo Shop and Photo Gallery
Pools - Outdoor - 5
Radio
Suites and Mini-Suites
$11.00 per passenger per day

All Other Staterooms
$10.50 per passenger per day
Services
Health and Beauty
Athletic/Exercise Facilities
Barber Shop
Beauty Salon
Laundry/Ironing/Dry Cleaning Service
Tour Office
Drug Store
Health Center w/Massage and Treatment Rooms
Medical Center
Sauna/Steam Rooms
Whirlpool Spas - 5
Aerobic and Exercise Room
Golf Simulators
Gymnasium
Sea Princess Onboard Experience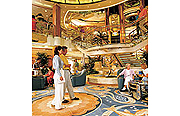 The 77,000-ton Sea Princess was the third Sun-class (Dawn Princess, Sun Princess) ship to enter service. Sea returned to Princess Cruises in April 2005 after sailing for P&O Cruises as the Adonia for two years. A refit prior to re-joining Princess included the addition of "Movies Under the Stars", the outdoor 300-sq. ft. LED movie screen that shows movies, concerts and sporting events poolside - a popular feature aboard the Grand-class ships.

Step into the Grand Plaza atrium with gleaming marble floor and brass staircases and you'll know this will be a classy cruise experience. A refined atmosphere without being staid, the tempo can be as upbeat as you like yet intimate enough for romance. With a high ratio of passengers to space and superb design, there are no lines or crowds. The layout of public rooms is superb, with the majority located on Promenade Deck. At the same time, this ship is too large to present many opportunities for meeting other passengers, except your tablemates at dinner if you choose traditional dining. In the Caribbean, you'll find terrific water sports programs available.
Sea Princess Things to Do
Entertainment: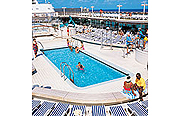 Don't miss "Odyssea", a Cirque du Soleil-type experience, or "Pirates", performed weekly in the main theater. While the ships' performers may not be Broadway-bound, they are competent at cabaret, lavish floor shows and cozy lounges. You won't find the top entertainment afloat, but adequate for cruisers who don't expect the highest caliber of performances.

Fitness:
Sea Princess has larger fitness facilities than you'll find in some medium-size towns. From a computerized golf simulator (there's a fee) to a separate jogging track, there are few sports/fitness activities not found aboard. The multi-level Spa is both state of the art and stunning, with whirlpool, exercise equipment with personal trainer, and Steiner's salon. The ships' main pool area is found on Riviera Deck and there is also a splash pool on Sun Deck.
Sea Princess Dining / Dinner
Cuisine:
Princess has raised the level of cuisine to a much higher level in all restaurants, with pasta and beef our favorite dishes, while desserts and coffee could use a bit of work. Don't miss the pizza made to order in the ships' pizzeria. There's an ice cream bar, but this comes with a charge, a big gripe with Princess' passengers. The Sterling Steakhouse features special cuts of Angus beef from the famous Sterling Silver 8 brand. Passengers choose their own prime cut of beef from a presentation tray, and watch as the chef cooks their selection. There is a $15.00 charge for this dining alternative open from 6:00 to 10:00 p.m.

Restaurants:
Princess again scales down the feeling of a large ship with two main dining rooms, elegant and beautifully designed with etched glass partitions and hand painted panels. Dining choices onboard include a 24-hour restaurant, patisserie, hamburger and hot dog grill, sushi bar and 24-hour room service. You'll also find an Italian-style pizzeria with multiple varieties made from scratch. The Grill restaurant is adjacent to the pool for casual breakfast and luncheon buffet. It is transformed into the Sterling Steakhouse between 6:00 and 10:00 p.m. with special table settings of decorative linens, fine cutlery and table lanterns. (Reservations are recommended as seating is limited to 70. The charge for this dining alternative is $15.00).

Personal Choice Dining offers passengers the choice of two dining styles; traditional cruise dining with a set dining time (6:30 p.m. and 8:30 p.m.) and the same waiter and tablemates each evening, or new restaurant style seating allowing passengers to dine when and with whom they like. With restaurant style dining, each party will be seated at their own table rather than with other passengers, as they would at a restaurant on land. Restaurant style seating is offered in the dining rooms between 5:30 p.m. and midnight. (Regardless of which dining style is chosen, a gratuity of $10.00 per person per day is automatically applied to shipboard accounts for dining and cabin staff. Passengers may add or reduce this amount at any time, if they so choose.)


Service:
Multi-national staff, with high scores for friendliness and attention to detail.

Attire:
Plan on two formal evenings on seven to 14-night cruises. The rest of the evenings are designated smart casual. Many men opt for dark suit instead of a tux while women don dressy pants, short or long dresses. During the daytime, the "uniform" is shorts, sneakers, T-shirt/polo shirt and baseball cap.
Sea Princess Ambience
Decor: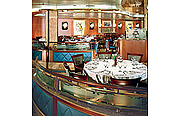 Sea Princess is our pick for one of the most beautiful ships afloat. Sophisticated and elegant, the Princess ships are each adorned with a $2 million art collection that enriches the pale beech paneling, soft lighting and enormous windows with ocean views.

Cabins:
You'll find generous standard cabin amenities aboard Sea Princess: color TV with movies and CNN; hair dryers; terry cloth robes; safes; mini refrigerators; beds that convert from twin to queen size. Princess designed this ship to meet the desires of today's passengers by constructing 400 cabins with private balconies, spacious at 178 square feet. They are a trade off if cabin size is important, reducing your actual living space to 151 sq. ft. But these are the ships' most popular staterooms so book them early. Mini-suites with two rooms are among the largest aboard any ship: 374 sq. feet, including balcony and large marble bathroom. Those opting for a standard outside cabin, sized at 178 sq. feet, will feel quite comfortable while inside staterooms are smaller, sized from 135 to 148 sq. ft. In the standard outside and inside cabins, closet space is miniscule, so pack lightly. You'll find self-operated washers and dryers on all cabin decks - they're always crowded, but it's a great way to meet other cruisers.