Monarch Of The Seas

Facilities / On Board Activities
Dining / Dinner
Entertainment / Recreation
Gratuity Policies
No. of Dinner Sittings:
2

Usual Dinner Hours:
6:30pm - 9:30pm

Special Diet:
Low-fat,Low-cholesterol,Vegetarian,Diabetic

Dress Code:
Varies: Casual to Formal
Bars/Lounges/ Night Clubs - 9
Card Rooms
Casino
Library
Movie Theater/Cinema
Photo Shop and Photo Gallery
Piano Bar
Ping Pong
Pool Bar
Pools - Outdoor - 2
Shuffleboard Courts
Video Arcade
Whirlpools - 2
Waiter
$3.00 Per Person/per day

Asst. Waiter
$2.00 Per Person/per day

Cabin Steward
$3.50 Per Person/per day
Services
Health and Beauty
Athletic/Exercise Facilities
Barber Shop
Beauty Salon
Daily News Update
Laundry/Ironing/Dry Cleaning Service
Postal Service
Religious Services
Shore Excursion Desk
Massage Room
Medical Center
Sauna/Steam Rooms
Fitness Center
Sports Court
Monarch Of The Seas

Onboard Experience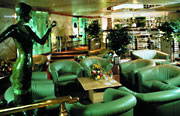 Monarch of the Seas is the second of the Sovereign-class (Sovereign, Majesty of the Seas) of Royal Caribbean vessels, launched in 1991. She went into drydock in May 2003 for a major renovation and refurbishment, adding the stock in trade Royal Caribbean features as alternative evening dining, full menu available for room service, rock climbing and a new Internet center.

Even though in her day she was considered a huge ship, by the time she was introduced Royal Caribbean had perfected their "round robin" philosophy of passenger flow, getting the first seating if diners out of the restaurant and into the main showroom or casino early enough to miss the oncoming wave of second seating. At a mere 11 decks for 2,744 passengers, max, you can still find your way around, but when the ship is fully booked, if it is seclusion you want you will have to resort to finding it in places like RCI's trademark Viking Crown Lounge, 11 decks above the ocean with a 360-degree view during the off hours.

Foremost, this is a fun-filled, generally short vacation ship. The cruise director delights in getting passengers involved in everything from belly flop contests to adult scavenger hunts. Daily activities are listed on a conveniently small card you can keep in your fanny-pak. Poolside on Deck 12 on a nice day can be all too reminiscent of spring break; just try to find a vacant lounge chair!
Monarch Of The Seas

Things to Do

Entertainment: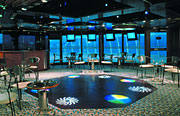 Even when there are no Las Vegas-style revues, the cruise staff will keep you well and truly entertained, especially with their riotous Farewell Spectacular. Boleros, a new Latin bar on Deck 7, will entice you onto its dance floor with its tangy Latin rhythms. Or sit back and enjoy guitar recitals, karaoke, and dueling piano shows. In the new disco, The Circuit, the resident show band plays popular tunes from 9:30 p.m. until midnight, when a DJ takes over. The main showroom on Deck 5, the Sound of Music Theatre, has been updated with new carpet and upholstery.

Casino Royale generously (ha!) offers free gaming lessons. For a $20 entry fee, new graduates and others, can enter morning blackjack and afternoon slot tournaments.

Fitness:
The ShipShape Fitness Center and Spa aboard Monarch, expanded in 2003, now feature additional cardio equipment and panoramic views. But the ceilings are low, so persons over 6'3 are likely to knock themselves unconscious while running on the treadmill. There are two outdoor pools with plenty of room for sunbathing, as well as shaded areas, two outdoor whirlpools, jogging track, wrap-around promenade deck, basketball court, ping-pong, shuffleboard and the new three-sided rock-climbing wall on Deck 12

The spa offers massage and beauty treatments, state-of-the-art equipment, morning and afternoon classes and walkathons. A barber and beauty shop provide full services.

For Kids:
In addition to separate play areas for kids aged three to 12, there is also a teen lounge that converts to a disco, making Vision an excellent choice for families with children of many different vintages. The "Adventure Ocean" youth program has age-specific facilities and programs supervised by youth counselors for Aquanauts (age 3-5, must be toilet trained), Explorers (age 6-8), Voyagers (age 9-11), Navigators (age 12-14) and Teens (age 15-17). The program runs year-round in the Caribbean, Bermuda, Bahamas, Mexico, Hawaii and Alaska. Parents can leave their children at Adventure Ocean while they take shore excursions. For this purpose, the facilities open 30 minutes ahead of morning shore excursion departures. Otherwise, organized activities are offered from 10 a.m. to 10 p.m., with group babysitting from 10 p.m. to 1 a.m. for a fee. Teen centers are now open past 2 a.m. Teens will find their own private coffee house and disco.

A new program for infants and toddlers 6 months to 3 years, in partnership with toy maker Fisher-Price, offers 45-minute playgroups for children accompanied by an adult, involving storytelling, creative arts, music and a variety of Fisher-Price learning toys and games. Aqua Babies are six months to 18 months old while Aqua Tots are 18 months to three years old.

Private babysitting is offered from 8:00 a.m. to 2:00 a.m., provided sitters are available, for children from one year old. The rate is usually between $8.00 and $10 per hour depending on the number of children in the family. Cash payment is made directly to the sitter. Arrange through Guest Services at least 24 hours in advance.

At mealtime, young cruisers get their own eight-page menu, featuring word and picture games and pictures to color.
Monarch Of The Seas

Dining / Dinner

Cuisine:
Monarch offers a wide range of dining options, including, in addition to five traditional fine dining entrees per night, ShipShape healthy menus (with less than 30 percent of calories from fat); vegetarian; ethnic and regional specialties. The same dinner menus were available at the casual open-seating Windjammer Cafe. There's Asian cuisine at Jade and pizza at Sorrento's.

Twenty-four hour room service is available with a variety of hot food, along with a full breakfast menu. Dining room menus are also available for in-cabin service during lunch and dinner. There is a waistline-threateningly irresistible chocolate-lovers buffet and a Gala Buffet that more than lives up to its name.

Restaurants:
The two refurbished dining rooms, Claude's and Vincent's (after Monet and van Gogh, you see) tend toward bright lighting. They are assigned by cabin, and the low noise levels can vary, considering that they accommodate 700 diners each. With little of the elegance of the two- and three-story rooms on the line's Voyager and Radiance classes, though, they're sadly reminiscent of banquet-halls. There are tables for two, four, six, and eight. Seatings are at 6:15 p.m. and 8:30 p.m.

The Windjammer Cafe, for casual breakfast, lunch, afternoon tea, and open-seating dinners served restaurant-style, has full-length glass windows on three sides, and encompasses Jade and Sorrento's. The back of the Lido buffet area, facing the stern, is the place to go almost anytime for hamburgers and hotdogs. They may not be fresh, but their fairly warm. On Deck 5 in the Boutiques of Centrum area you'll find Latte-tudes coffee house and a Ben & Jerry's ice cream parlor. Don't miss The Deli's colossally delicious sun-dried tomato, brie and avocado sandwich.

Service:
Uniformly good, the waiters are multitalented, good at balancing trays on their heads or singing.

Tipping:

Royal Caribbean suggests a per person per day gratuity of $3.50 for the stateroom attendant ($5.75 if sailing in a suite); $3.50 for the waiter; $2.50 for the Assistant Waiter; .75 Head Waiter. These gratuities may be paid in cash or charged to your onboard account. For children sailing as third or fourth passenger in the stateroom, tipping is at the parents' discretion.

A 15 percent gratuity is automatically added to all beverage tabs. Gratuities for room service, spa, casino and other staff are at your discretion.

Attire:
There are two formal nights per cruise. Maybe it's this ship's particularly festive reputation that induces most men onboard to don actual tuxedos for formal nights, though a dark suit would be just as appropriate. In general, though, this ship offers so much to do onboard on any given evening that we noticed passengers didn't all dress alike.
Monarch Of The Seas

Ambience

Decor: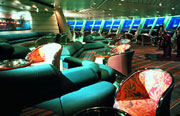 Muted beiges, blues, greens, and peach adds a bit a of nostalgic chic to the public rooms atmosphere. The ship looks frankly a little dated, still, there's plenty of artwork on display, as well as more '80s-style brass, chrome, and neon than one might prefer. Cabin decor is generally a bit dismal with tiny TV sets and hard cot-like beds.

Public Areas:
As soon as you're aboard, you enter the Centrum, a hotel-style atrium with lush foliage, fountains, and a sweeping brass-railed staircase. Here you find passenger services and the small Internet cafe area. Sea days and even sail time after days in port, the entire centrum turns into a shopping mall with gold chain by the inch and temporary tattoos. During the quiet hours a solo classical guitarist strums.

The two-deck, 1,050-seat Sound of Music Lounge, which stages Las Vegas-ish spectacles, has some of the biggest video walls at sea. Other popular spots include the new Latin lounge, Boleros, The Circuit Disco, and the Schooner Bar, a pleasant place to listen to a piano player. Crystal chandeliers sparkle in the enormous Casino. There's an Art and Photo Gallery on Deck 3.

The handsome new business center on Deck 7 features three individual meeting rooms, Voyager, Explorer and Adventure, accommodating a total of 240 persons who are able to enjoy sun and ocean views through the large windows lining the outer rooms. There are several computer terminals and a fax machine. Royal Caribbean Online centers provide 24-hour Internet for a per-minute charge. Virtual postcards can be sent for a flat surcharge per transmission.

Cabins:
Monarch's staterooms were upgraded during The Great Refit of 2003, but cabins can be almost satirically tiny -- 119 sq. ft.! - so by all means consult a travel agent before booking. Most cabins' beds convert to queen-size and have private bath; other amenities include phone; a TV with CNN, ESPN plus movies; three-channel radio; individually controlled air conditioning, and a hair dryer.

The five categories of suites have balconies. They include the Junior Suites (264 sq. ft. balcony 70 sq. ft.) and Royal Family Suite with two bedrooms, two bathrooms, living area, and a private balcony (371 sq. ft., balcony 155 sq. ft.).

In a Superior Ocean view stateroom, 157 sq. ft., attractively decorated, with a queen-size bed, sofa, coffee table, wall-length dresser and mirrors, lots of storage and closet space and a refrigerator, you'll hear no outside racket whatever.