Holland America Zuiderdam

Facilities / On Board Activities
Dining / Dinner
Entertainment / Recreation
Gratuity Policies
No. of Dinner Sittings:
2

Usual Dinner Hours:
6:00pm & 8:00pm

Special Diet:
Yes, with advance notice

Dress Code:
Appropriate attire
Art Gallery
Bars/Lounges/ Night Clubs - 13
Casino
Deck Tennis
Library
Nautica/Spa
Photo Shop and Photo Gallery
Pools - Indoor
Pools - Outdoor - 2
Video Arcade
Cabin Steward, Server and Maitre d'
$10.00 Per Person/ Per Day
Services
Athletic/Exercise Facilities
Health and Beauty
Barber Shop
Beauty Salon
Concierge
Basketball Court
Fitness Center
Golf Simulators
Gymnasium
Hair Stylist
Massage Room - 2
Sauna/Steam Rooms - 2
Holland America Zuiderdam

Onboard Experience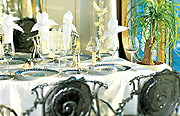 Remember the old intrigue, is John Lennon really Bob Dylan? Well, have they ever been seen in the same room together? Well, has anyone ever seen Zuiderdam and a Carnival "Fun Ship" in the same room together?

Heretofore known for its decorousness, with Zuiderdam, Holland America goes for the glitz in a big, big, Carnival way, presumably in an attempt to lure younger passengers and families. You've never imagined how many blinding shades of red there are ? and they're all over the Zuiderdam, the ship that aims to prove single-handedly that Holland America is no longer your spinster great-aunt's cruise line.

Now, keep in mind that when it was built it was pre-determined that it would sail on 7-day Caribbean cruises year-round. The idea was to build a "Caribbean ship" for Holland America in order to get the word out that Holland America is a Caribbean cruise line with appeal to younger audiences. Guess what, it worked. Holland America now attracts many baby boomers to its 7-day Caribbean cruises, but for the true Holland America feel we recommend that you opt for one of the three sister ships of Zuiderdam. That being said, this ship does have its admirers who travel on it time and again.

Once you get beyond the decor, the ship is still fully subscribed to Holland America's "Signature of Excellence" program of enhancements in nearly every area of the ship. New features include tableside waiter service at dinner in the Lido, a new Culinary Arts Program with show kitchen for demonstrations and classes, expansion of spa and fitness facilities, upgraded Club HAL Kids Centers, and new shore excursions.

The Explorations Cafe is a combination library, Internet center, music listening area and sidewalk cafe. Staterooms now offer the best mattresses and duvets sold in Europe, flat screen TVs, and DVD players. There's early boarding and a choice of four dinner seatings.

And a few of many past passengers' favorite HAL traditions remain - the free appetizers at cocktail hour and abundant fresh flowers.
Holland America Zuiderdam

Things to Do

Entertainment: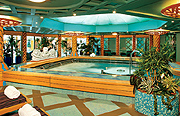 Zuiderdam's new Culinary Arts Center, with video cameras and overhead monitorso capture the action for those in the back rows, is set up very much like a TV Food Channel set, and is a marvelous addition. A number of demonstration classes are given at no charge. Hands-on classes, limited to about a dozen students, charge modestly. As these classes are very popular, be sure to sign up early.

Another big improvement is the New York Times-powered Exploration Café, featuring an excellent lending library, music listening stations, 24-hour Internet access (for a fee), and a "sidewalk café" featuring specialty coffees, other beverages and bakery treats (all at an additional charge). Those who like to spend a large percentage of their vacations on line should consider a prepaid bulk-minute plan, as the speed of the Internet connection will have you howling in pain. Better to wait for a port and follow the crew to an Internet café.

Things have certainly changed since Holland America was widely thought incapable of staging a credible production show. Instead of the customary four singers and dancers in the production shows, Zuiderdam had more than a dozen, and much more elaborate sets. Late-night adult oriented comedy is offerd at least once per cruise. Other diversions include exercise and dance classes, bridge, bingo, Friends of Bill W., guest lectures, and even ice carving.

There is no dedicated onboard cinema, as on the S-class of Holland America ships, but the Ocean Bar is transformed into a movie theater at least twice daily and you can still find the free bags of popcorn, though they have gone from hot to lukewarm. The movie selection is surprisingly recent releases and refreshingly intelligent in content, favoring good plots over mindless action flicks.

Fitness:
Oosterdam has one of the most spacious gyms on the high seas, with cardio equipment and weight machines arranged in tiers, and a large hot tub in the center. The Greenhouse Spa and Salon's reception area is situated in the midst of a hallway between the main pool and an elevator bank, making the fitness center purposely difficult to locate. Despite the name, it's still run Steiner's, which means that its treatments are somewhat pricey, though the staff is not quite so relentless about sales.

An nice alternative to a massage is a day pass to either the thelasotherapy pool with extremely strong water jets to soothe your muscles ($20/day), or you can go to the steam and aromatherapy center and relax on heated loungers and take steambaths infused with essentail oils. Day passes to this are also $20/day. Or you can buy a weekly pass to both for $250 unlimited.

The Oosterdam has two outdoor swimming pools, one with a Magrodome roof that can be closed in case of inclement weather. There are also several hot tubs available at no charge. The large gym has state-of-the-art strengthening and aerobic equipment, and there's a jogging track on one of the upper decks. There's a nominal charge for some of the exercise classes.

For Kids:
Club HAL now includes kids and teens three to 17, whereas previously you had to be at least five for them to take any notice. Dedicated youth coordinators run full days of events for each age group. New teen areas The Loft lounge and The Oasis have sundecks with their own waterfalls, hammocks and covered snack areas.

On Caribbean cruises, the private island Half Moon Cay is without a doubt one of the best in cruisedom. Activities offered; horseback riding including a horseback swim in the ocean, bicycle tours, parasailing, rental of snorkle and scuba-diving gear, deep sea fishing, and an excellent alternative to Grand Cayman for swimming with stingrays. Instead of a 90 minute jaunt by bus and boat to the middle of bay packed with tourists, you can walk down a set of steps and right into the welcoming fins of the sleek creatures. The same experience without the delays and boredom.

Group babysitting is available in the Club HAL facilities from 10 p.m. to midnight at a charge of $5 per child per hour. Limited private babysitting is available through the Front Office for ages 3 to 12.
Holland America Zuiderdam

Dining / Dinner

Cuisine:
The main dining room specializes in Continental cuisine, and offers but one salad each evening, along with the inevitable Caesar. The lunch buffet on Lido Deck, on the other hand, offers commendable variety. With separate serving areas for many items, lines are rare except perhaps at very peak times. The BLT -- served on a baguette, and then grilled - at the Deli was one of the most delicious we've ever eaten, the poolside Grill offers hamburgers,and there is also a taco bar immediately forward of the Grill.

Restaurants:
The two-level Vista Restaurant has spacious seating and good soundproofing. There are tables for two, four, six, eight and ten. Floor-to-ceiling windows line three sides of the room, and grand staircases flank the bandstand, from which live music flows most appetizingly while you dine. The ship's Lido cafe, serving breakfast and lunch, becomes a casual dining dispensary of pizza and pasta by night. Holland America is known for its buffets, and continues to offer the Asian stir fry, deli sandwiches, and, at breakfast, made-to-order omelets that made their name.

The $20 per person (without wine), dinner in the luminous reservations-only Pinnacle Grill can be a memorable experience, with a well-executed menu concentrating on the flavours of Holland America's Pacific Northwest home, with salmon, premium beefsteaks, Dungeness crab cakes, venison carpaccio, Washington apples, and Oregon bleu cheese.

Service:
Holland America's Indonesian and Filipino crew is warm and gracious, and over the last few years, as the line's rapid expansion phase has ended, they have become much more fluent in English and accustomed to their jobs.

Tipping:
For years Holland America was known for its no-tipping policy, but today gratuities of $10.00 per person (including children) are automatically added daily to the shipboard account for dining and stateroom service. Visit the front desk to adjust that amount. There is also a 15 percent service charge automatically added to bar bills.

Attire:
On the two weekly formal nights, half the men opt for a dark suit rather than renting a tuxedo. Casual on these ships means comfortable, but T-shirts, jeans, swimsuits, tank tops and shorts are all forbidden in the dining rooms and public areas. It isn't allowed, but also not unusual for people to change back to casual after dinner on formal nights. As long as you stick to the deck areas or casino, no one will frown at you.
Holland America Zuiderdam

Ambience

Decor: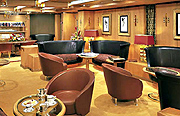 Sit on a turquoise leather sofa in one lounge, a bright yellow one in another, a red one elsewhere. Throughout the ship, bright primary colors fairly leap out at you. Traverse a red and purple carpet on Promenade Deck and then a cherry red hallway before ascending to your cabin -- in a fire engine red elevator trimmed in brass.

Because the ship's atrium is not the center of attention as on many other Caribbean ships, most activity takes place on Lower Promenade and Promenade Decks, where the majority of lounges and shops are located. Cocktails are on offer in the refined Explorer's Club, a Sports Bar and the Queen's Lounge. The three-tier Vista Lounge is where you'll find the ship's star studded entertainment, while the semicircular Queen's Lounge on the Lower Promenade Deck presents cabaret-style entertainment and recently released movies. Pre-dinner dancing happens in the Crows Nest, an attractive lounge on Observation Deck with potted palm trees, silver-blue and cobalt leather chairs, and wonderful recliners overlooking the bow of the ship.

The large (at least for HAL!) casino is next door to a sports bar with big-screen televisions on which to watch the big game. The sport's bar is also where you will find the Texas Hold'em Poker games. The casino has many slots and a vatirty of games including Blackjack, Let it Ride, Craps, Roulette and Caribbean Stud Poker.

Keeping in mind the goal of this ship was to shake up the old image, there's no other way to say it: Holland America's first-ever dedicated disco is an eyesore. But with the lights turned down and a few drinks, it just might make you feel crazy enough to actually try the Karaoke on tap.

The most notable features of the pool area are giant polar bear and penguin statues, fairly incongruous given that Zuiderdam sails year-round in the Caribbean.

Cabins:
Oosterdam's staterooms are larger than most mass-market cruise lines', with balcony cabins bigger still. Standard inside cabins are 182 sq. feet, outside staterooms 197 sq. feet, and standard balcony cabins 284 sq. ft. Balcony cabins have a spacious veranda with two chairs and a table. Be forewarned, though, that staterooms have few shelves and no drawers.

The verandahs on Holland America are quite adequate for two. The well-equipped staterooms offer wonderful new pillow-top beds, better pillows; fluffier towels; duvets and high-thread count sheets; a stocked mini-bar (with charges for all beverages consumed); hair-dryers; safes; functional storage space. Staterooms always feature fresh flowers; a filled ice bucket; and a bowl of fresh fruit that's replenished regularly.

Television service includes several stations, such as CNN, ESPN, television shows, shore excursion presentations, and shopping presentations. There's no self-service laundry, but several laundry packages are available, the $45 unlimited laundry package seems a good deal, though it doesn't include dry cleaning.

Suite passengers have access to the Neptune Lounge on Rotterdam Deck, a private room that serves various snacks (from light breakfast fare in the mornings to hors d'oeuvres at cocktail hour). The concierge therein can book dinner reservations and shore tours.

There's no self-service laundry on this ship, although several laundry packages are available through your room steward.