Norwegian Jewel Facilities / On Board Activities
Dining / Dinner
Entertainment / Recreation
Gratuity Policies
Usual Dinner Hours:
Freestyle

Special Diet:
Available upon request

Dress Code:
"Resort Casual" attire is always appropriate. Formal nights are optional not required.
Art Gallery
Bars/Lounges/ Night Clubs - 9
Casino
Disco
Jacuzzi - 8
Movie Theater/Cinema
Photo Shop and Photo Gallery
Pools - Outdoor - 4
Video Arcade
Cabin Steward, Server and Maitre d'
$10.00 per person / per day

Services
Athletic/Exercise Facilities
Health and Beauty
Shore Excursion Desk
Basketball Court
Golf Driver Net
Medical Center
Norwegian Jewel Onboard Experience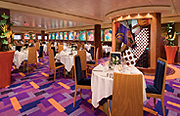 Nowhere at sea can you enjoy something more closely resembling a terrestrial resort vacation than on Norwegian Jewel. For those who like a lot to do, with a lot of musical accompaniment, Jewel is absolutely heaven-sent, as the two days at sea per cruise are jam-packed with activities, from cooking/carving demonstrations, gaming lessons, art auctions, health seminars, putting contests, diamond and gem seminars, basic language courses, and snorkeling demos, to makeover seminars, bridge play, and even finance-themed lectures. And if all that isn't quite enough for you, there are, for extra fees, wine, martini and margarita tastings; yoga; Pilates; indoor cycling; bingo; and instruction in massage.

On the pool deck, the water slide takes up a lot of acreage and most of the foot traffic is on the deck opposite the teen facility, so on sea days the pool areas get crowded. The upper deck, though, is a fairly reliable refuge. There are 1,047 deck chairs on board, and not a single cushion, unless someone's smuggled one aboard.
Norwegian Jewel Things to Do
Entertainment: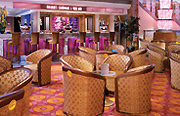 The main entertainment venue, the Stardust Theatre, customarily packed, presents nightly Broadway and Vegas-style productions, comedy and magic acts, and a Cirque du Soleil-style aerial thriller, Cirque Bijou, including gymnasts, acrobats and bungee jumpers. Or you might prefer the justly celebrated Second City Troupe, which has produced many of North America's best-loved comedians the past few decades, including Martin Short and Rick Moranis.

Evening and late-night attractions include a 50s/60s dance and comedy show, the Not-So-Newlywed Game. and Liar's Club. On karaoke nights, the Fyzz lounge is a big favorite of families.

The attractive casino's two hundred video games and slot machines include penny slots; to the delight of serious players, the craps tables offers Las Vegas betting odds.

Shore excursions run the gamut from canopy zipline tours for thrill-seekers to sedate sightseeing trips. What they all have in common, unfortunately, is an often endless tender process between ship and shore.

Fitness:
Body Waves Fitness Center, Deck 12, open 24/7, has 14 treadmills with their own TVs, more than 25 other pieces of fitness equipment, abundant free weights, and a large workout area with lots of aerobic equipment, such as steps and balls. The Bora Bora Health Spa and Salon, operated by Mandara, has 20 treatment rooms for such exotic treatments as algae detox, lime and ginger salt glows, coconut rubs, and milk ritual wraps, including three for couples. Men's and women's sides are set up with stream and sauna rooms, whirlpool, indoor lap pool, jet-current exercise pool, hydrotherapy pool, and Jacuzzis.

For Kids:
Norwegian Jewel is wild about them, as witness: interconnecting cabins, a kids-only pool and water slide, and the Splashdown Kid's Club, featuring a kid cinema and video arcade. Where most at-sea children's programs turn their backs on the under-threes, NCL welcomes even those in their terrible twos.

In addition to selections from their own menu, young passengers can eat hot dogs and chicken nuggets in the Kid's Corner buffet, with mini stools and low tables. The complimentary Kid's Crew program is organized by age group: Junior Sailors (2 - 5), First Mates (6 - 9), Navigators (10 - 12) and Teens (13 - 17). Families can gather in the Card Room for a game of Monopoly or Clue, sing together during family karaoke night, or compete in a "Family Feud" game show.
Norwegian Jewel Dining / Dinner
Cuisine:
Mama's appetizers and pasta are very delicious, as too is Le Bistro's filet mignon. Many passengers seem to enjoy watching Chin Chin's predictably exhibitionistic teppanyaki chefs through the large picture window design. The $5 all-you-can-eat sushi menu, effective day or night, is a remarkably good deal. The menu at the two main dining rooms is the same each day.

Restaurants:
The two main dining rooms, Azura and Tsar's Palace, seat 310 and 552, respectively. The very attractive Russian themed Tsar's, all royal burgundy, green, and gold, with chandeliers, marbled pillars and faux Faberge egg balustrades, is two stories tall, with fabulous huge windows aft. There are seldom lines for either Tsar's or the smaller, sleeker, pop-art-decorated Azura. Traditional cruise-ship style dining arrangements are offered; if you want to be seated at the same time each night, at the same table, simply arrange it with the maitre 'd. Either Tsar's or Azura is open for breakfast and lunch.

The Garden Caf? and Great Outdoors buffet areas offer breakfast, lunch and dinner. Meals are always varied, occasionally with a culinary theme. Multiple serving stations are surprisingly efficient to preclude crowding, even on days at sea. Serving stations for breakfast include custom-made waffles and omelets, while lunch and dinner feature pastas and sauces in the combination of your choice.

Le Bistro, the line's signature alternative restaurant, does French. Each of the other four other restaurants has its own specialty. Cagney's does steaks, Tango's Tapas does Tex-Mex; Chin Chin does Chinese, Teppanyaki, Shabu-Shabu and sushi; and we'll let you guess what Mama's Italian Kitchen does. Neither Mama's nor Tango's levies an extra charge. The others charge a modest $10 or $15. All are open for dinner. Cagney's, Chin Chin, and Le Bistro all halve their cover charge between 5:30 and 6:30 p.m.

Next to the buffet area, the casual Blue Lagoon, overlooking the water or the atrium, is a great place to grab a snack when returning from a shore excursion. It is open from 10 p.m. at night until 4:30 the following afternoon.

In an impressive leap forward in the art of free-style dining, NCL's all original and innovative reservations system lets guests book tables anytime they want during the cruise for the entire week, beginning as soon as they board.

Those who prefer to play it by ear will rejoice in the presence of more than a dozen television monitors indicating which restaurants have tables available at any given moment. Upon making a selection, the party is given a beeper, allowing them to wander the ship until their table is ready.

Service:
The staff, recruited from all over the globe, is generally attentive and pleasant.

Tipping:
$10 per adult per day and $5 per child are added to your folio automatically. Fifteen percent is automatically added to bar bills and spa services. NCL suggests that concierges and butlers be tipped separately in accordance with the services they provide.

Attire:
Attire:
Determinedly casual, though T-shirts, shorts, and tank tops are forbidden in the dining rooms after 5 p.m., except for the Garden Caf//Great Outdoors. Very few people dress up for the one "formal optional" night.

Special Features:
NCL has introduced two well-loved new policies to ease the pain of disembarkation. Guests who can manage their own luggage disembark first, while those flying out on American Airlines can, after claming them and going through customs at the pier, check their bags with the airline, after which they're free of them until landing.
Norwegian Jewel Ambience
Decor: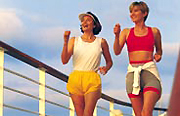 What used to be called a mixed bag. Colors are vivid in one direction, muted in the opposite. Patterns seem to become one another. Without the help of mirrors or neon, the interior is bright and cheerful.

Public Areas:
In keeping with the burgeoning trend by NCL to take on Carnival for the "most like a theme park" decor award, one word that will never come to mind aboard Jewel, is "understated." In contrast to elegance, whether simple or not, as on Princess or the luxury lines, this ship will appeal to people who enjoy raising their pulse. The color and design in the FYZZ Cabaret Lounge and Bar is dizzying enough to send you back to your stateroom for Dramamine, from the yellow neon poles to the three-dimensional molecule shapes in the carpet to the egg-shell chairs, the effect is as being swallowed by a bubble machine.

The Spinnaker Lounge is only slightly more sophisticated but with the same basic premise, bringing shapes one might see through a microscope to the carpet pattern, and instead of eggshell chairs you have the eggcups the shells would fit in. And while the restaurants are more conducive to relaxation, especially Le Bistro and Tango's Tapas, the Galleria and public areas for passengers services and shore excursions are once again vivid combinations of purple, royal blue and pink.

The Internet cafe, open 24 hours a day, features eight computer stations. After an account activation fee of $3.95, the basic charge is .75 per minute. Frequent users do better with package rates: 250 minutes for $100 or 100 minutes for $55. Shorter plans the last day of the cruise include 15 minutes for $8.25 and 30 minutes for $12.

The wood burl shelves of The Library groan happily beneath the weight of a good selection of self-help, sports, travel, science, history, fiction and children's books in multiple languages. Passengers can check out three at a time.

Cabins:
The ship has 1,188 cherry wood-finished rooms broken down into 32 categories, a positively dizzying range best considered group by group. The largest group, with 1,008 rooms, includes inside rooms at 143 sq. ft.; ocean-view rooms at 158-166 sq. ft.; and ocean-view rooms with balcony at 205 sq. ft. All have safes, hairdryers, TVs and refrigerators, beds that convert from queen to twins, and enough drawer and closet space for two people on a seven-night cruise.

At the opposite end of the spectrum, the two groundbreaking Garden Villas, 4,390 sq. ft., have living rooms, dining rooms, sun decks and three separate bedrooms, each with its own bathroom. Each Garden Villa sleeps up to six adults, two kids/adults in rollaway beds and three infants in cribs -- great for a big family. The smaller (574 sq. ft.) 10 Courtyard Villas share a central courtyard with its own pool and small gym.

For those wanting something between the wonderful Villas and the regular inside/outside rooms, there are 168 Owner's Suites, Penthouses, Romance Suites and Mini-Suites.