Diamond Princess Facilities / On Board Activities
Dining / Dinner
Entertainment / Recreation
Gratuity Policies
No. of Dinner Sittings:
2

Usual Dinner Hours:
Personal Choice, 6:30pm & 8:30pm

Special Diet:
Available upon request

Dress Code:
May vary from Cruise Casual to Formal.
Bars/Lounges/ Night Clubs - 3
Card Rooms
Casino
Library
Nautica/Spa
Pool Bar
Pools - Outdoor - 4
Suites and Mini-Suites
$11.00 per passenger per day

All Other Staterooms
$10.50 per passenger per day

Services
Health and Beauty
Athletic/Exercise Facilities
Wedding Chapel
Hair Stylist
Health Spa (with whirlpools)
9 Hole Golf Putting Course
Golf Simulators
Diamond Princess Onboard Experience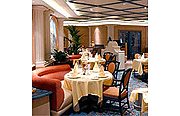 Exceeded in immensity only by Queen Mary 2 and Royal Caribbean's Voyager ships, these wonderful ships, whose exterior profiles are among the most gorgeous at sea, exemplify Princess's philosophy of offering both megaship choice and small ship feel.

These ships pride themselves on the range of choices they offer -- including, insofar as dining is concerned, an option not to make a choice, and to dine in the traditional way. Those who want flexibility can opt for any of the four intimate themed restaurants, which serve between 5:30 and 10 p.m., Marvelously, you can even change your mind when you board. There's a wonderful choice of activities too. Princess' ScholarShip at Sea program offers, for instance, photography, computer technology, and culinary classes (for a fee). Or you may choose to make your own serving dish in the ceramic studio located above the Neptune Pool, or to compete in an American Idol-style singing competition.

Kids and teens have their own well-equipped 9,686 sq. ft. facilities. There's Concierge Service for those who like someone else to make their dinner reservations, and to assist with more unusual requests. With 29 computer terminals, the Diamond's is one of the largest and most stylish Internet centers at sea -- and, at 35 cents a minute, one of the least expensive. Cappuccino is dispensed here at a nominal cost, but delicious pastries to wash it down with are free. More free-spirited types with their own laptop computers can purchase 30-minute wireless access packages.
Diamond Princess Things to Do
Entertainment: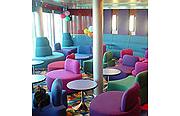 The tastefully under-decorated main showroom Princess Theater, with tiers of red-upholstered theater seats, is too popular for its own good; you commonly see passengers having to sit ignominiously on the steps for lack of seats at the more popular shows. You might have hoped that Princess would have learned its lesson with the Grand Class ships!

As indeed they seem to have in the popular Wheel House Bar, which is bigger than in its Grand-class incarnations, and now situated more salubriously just forward of the central atrium on Deck seven. Each evening two easy-listening trios alternate here for the amusement of passengers in leather and wingback chairs and tweed sofas.

Indeed, live music seems to be on offer in all bars and lounges. The same specialty acts you see in the main theater; a comedian or magician for example, often show up in the Explorer's Lounge, or Club Fusion. Crooners, which claims to serve 56 different martini recipes, offers (what else?) crooners as its entertainment.

Fitness:
The gym has an admirable array of treadmills, arc trainers, weight machines, and free weights, with mini-TVs on all the aerobics machines, but is far too narrow for the number of fitness-minded passengers likely to be aboard on any particular cruise.

At the Asian-themed Lotus Spa, $83 buys a Couples Rasul Ritual, based on a traditional Moroccan cleansing ritual. Keep your eyes open for day-in-port specials, and keep in mind that some of the massage rooms are directly below the basketball court and jogging track; that's why the New Age music is turned up to a volume more appropriate for heavy metal.
Diamond Princess Dining / Dinner
Cuisine:
Each of the four themed alternative restaurants aboard offers delectable choices. But because their ranges are constricted, it's a very good thing that their menus are supplemented by the International Dining Room's full menu, which changes each evening.

Princess's special Champagne Breakfast includes a half-bottle of chilled champagne, a warm basket of homemade pastries, smoked salmon, a medley of fruits and berries, and Alaska King Crab quiche. It's served in-cabin, and costs $25 for two.

Restaurants:
How not to love this: any passenger in any restaurant can request a special item from any of the others. And diners in the traditional restaurant can order from the menus of the specialty restaurants! So, if you and your dear spouse disagree about where to eat on any given night, you can still get that grilled steak from the Savoy.

The huge, handsomely decorated Horizon Court, on Lido Deck, serves as a 24-hour casual-dress alternative dining area. Instead of standing in a single buffet line, you move freely among the various stations. Breakfast here is better than in the dining room.

On the stern on Deck 6, the traditional, assigned-seating 518-seat International Dining Room is the ship's largest dining room -- and the hardest to find, look for the aft elevators or stairs.

Amidships, just aft of the atrium on the port side, the Asian-themed Pacific Moon features fresh sushi and a don-'t-miss sampler comprising pot sticker, dim sum, and spring roll. Next door, at the Southwestern-themed Santa Fe, fresh guacamole is prepared right before your eyes. One deck down, Vivaldi's serving staff wear Italian tricolore vests. Next door, the Savoy serves prime rib.

At Sabatini's, whose atmosphere is that of an Italian trattoria, you order only your main course. Everything else -- antipasti, shrimp, crab cakes, mussels, homemade pastas ? is served as a sampler. The courses just keep coming to the point where you actually start to laugh each time the waiter arrives with yet another delectable tidbit. El momento del verdad (as the bullfighters say, "moment of truth") occurs when he asks what you would like for your main course. You're already full! By meal's end, you will wonder if you'll ever be able to move again. A gourmand's dream come true, for a $20 surcharge. Forward of the Horizon Court, the newly rechristened Savoy has the same carnivore pleasing menu as the Sterling Steakhouses on the rest of the fleet, requires reservations, and charges a $15 cover.

The restaurants offer a good wine selection, from $20 to $50 per bottle. If you bring your own wine aboard you will be levied a $10 fee to remove the cork.

Service:
When it comes to restaurants, the best service comes from choosing the traditional dining option where you get the same table and servers every night. The downside, of course, is that you give up flexibility. You are allowed to change your mind after you board the ship, so why not choose traditional when booking and see how you like your table and tablemates? If it isn't a love connection, switch to the personal choice dining. Other onboard service aspects; bar and cabin service, are universally exemplary.

Tipping:
A per-person per-day charge of $10 is added automatically to your stateroom account for dining and stateroom personnel. This applies to all passengers, including children, regardless of their dining choices. The amount may be increased or lowered at the Purser's Reception desk during the cruise.

A 15 percent gratuity is automatically added to all beverage tabs. Gratuities for spa, casino and other staff are at your discretion.

Attire:
During a seven-night cruise there are two formal nights, and the rest are smart casual. On formal nights, most gentlemen opt for suits rather than tuxedos. Daytime attire is casual.
Diamond Princess Ambience
Decor: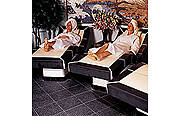 Diamond Princess is a very attractive ship in the tried and true elegance Princess is known for, though not nearly as modernly stylish as Celebrity's, for instance. The furnishings and floor and wall coverings are uniformly handsome in their simplicity, and there's a laudable absence of clutter.

In the cabins, the familiar, Princess family look prevails, with lots of muted tones and caramel-colored wood trim.

Public Areas:
The three-deck atrium is Diamond's heart. Note the delightful Art Nouveau glass-and-brass designs on its elevators. From late afternoon into early evening, a string quartet fills it with beautiful music. Forward of the atrium on Deck 7 you'll find the hypernautical Wheelhouse Bar. Aft is the safari-themed Explorer's Lounge. At the stern, the showroom/cabaret/lounge Club Fusion, a secondary show lounge like no other at sea, offers live music, disc jockeys, gambling machines, 42 high-definition TVs, and Princess Idol, a multi-round talent contest based on American Idol. In the corner, take the circular staircase to the intimate (but virtually view-less) Wake View Bar.

Off the atrium on Deck 6, the Diamond's African-themed casino is one of the largest at sea. Play blackjack, Caribbean stud, craps, roulette, or any of myriad slot and video poker machines. Unlike most megaship casinos, wide expanses of miles of open space separate the various gaming tables and slot machines; for once, the room isn't patently designed to keep you inside and gambling.

That said, though, we will note with sadness that it isn't terribly difficult to get lost looking for the various dining rooms.

Churchill's Lounge, the one-time sports bar, is now behind the casino and is used for the cognac and cigars set. The sports paraphernalia is still there, but seems oddly out of place. (The bars in the atrium on Decks 5 and 6 are smoke-free, as too are Club Fusion and all indoor dining areas.)

By lowering the SkyWalker discos -- still aft, with magnificent views off the stern -- Princess has in one fell swoop made even more sleek the exterior appearance of the ship and kept the stern swimming pool from being shaded. The reconceived discos also feature their own 125-foot balconies.

The Captain can marry passengers, whose friends and families ashore can witness the whole shebang on the Internet, via the ship's Webcam.

Cabins:
Diamond Princess has 748 balcony cabins including mini-suites (237 to 324 sq. ft.), as well as standard inside cabins (160 sq. ft.), ocean view cabins (183 sq. ft.), and full suites ranging from 538 to 555 sq. ft. All measurements include the balcony.

The decks containing balcony cabins are tiered to offer more room outside. The well-known downside to this, as any Grand-class passenger knows, is that the Dolphin Deck mini-suites offer no privacy whatever, while the balcony cabins on Caribe Deck are half open to viewing from above and half hidden under a roofed area. Above these, the balconies on Aloha deck are the ship's most private.

All cabins offer a desk, small mini-bar, private programmable safe, TV with remote, telephone and hairdryer. Every bathroom on board is stocked with complimentary Lotus Spa toiletries. Lower category cabins, even balcony cabins, have only a desk chair, a side chair and a smallish shower.

The minisuites, which offer a lot more space than the standard balcony cabin for not a lot more money, and the suites offer a separate sitting area with sofa, the bathrooms include a combination tub and shower enclosure. The mini-suites have walk-in closets.