Grand Princess Facilities / On Board Activities
Dining / Dinner
Entertainment / Recreation
Gratuity Policies
No. of Dinner Sittings:
2

Usual Dinner Hours:
Personal Choice, 6:30pm & 8:30pm

Special Diet:
Available upon request

Dress Code:
May vary from Cruise Casual to Formal.
Art Gallery
Bars/Lounges/ Night Clubs - 7
Card Rooms
Casino - 2
CD Library
Movie Theater/Cinema
Photo Shop and Photo Gallery
Pool Bar - 4
Pools - Outdoor - 4
Sports Deck
Virtual Reality Center
Whirlpools - 7
Suites and Mini-Suites
$11.00 per passenger per day

All Other Staterooms
$10.50 per passenger per day

Services
Health and Beauty
Athletic/Exercise Facilities
Audio/Visual
Barber Shop
Beauty Salon
Chapel
Currency Exchange
Laundry/Ironing/Dry Cleaning Service
Tour Office
Wedding Chapel
Health Center w/Massage and Treatment Rooms
Massage Room
Medical Center
9 Hole Golf Putting Course
Aerobic and Exercise Room
Golf Simulators
Gymnasium
Health Club
Grand Princess Onboard Experience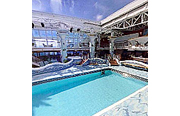 When she entered service in 1998, the 2,600-passenger Grand Princess was the biggest cruise ship at sea, and the first of Princess' Grand-class, which would soon come to also include Golden Princess, Star Princess, and Caribbean Princess. Despite their actual size, the fact that Grand Princess and her sisters carry far fewer passengers than competing mid-class cruise ships of similar size means that the space per passenger ratio on these ships results in lounges, theaters and dining rooms that are are all intimate enough to make passengers forget they're aboard a megaliner.

Thanks to shrewd layout, multiple dining venues, four expansive outdoor deck areas (1.7 acres!), multiple sports facilities, four pools, and nine hot tubs, passengers are rarely concentrated in any one area. As a result, these ships often feel almost too spacious, eerily empty at times. Not that this is a bad thing, most luxury ships have the same feel. Meanwhile, the mega-ship amenities included for those who can never get enough dining, entertainment, and fitness choices, means the Princess ships of this class are as good as it gets. Their programs for younger passengers are exemplary, and their Lido buffet dining spot is open around the clock.

Having offered the first wedding chapel at sea (with the Captain doing the honors), Grand Princess now also features a complete professional digital photography studio in the F/X Digital Photo Center for those all-important wedding photos. The medical center is one of the most advanced at sea, the first to offer real-time teleconferencing support from a leading national cardiac care center in the United States.

The most incongruous factor about these mega-ships is that the public rooms aren't much bigger than those on much smaller ships, and there are surprisingly few bars and lounges for a ship this size. The one head-scratcher to the design is the compromised privacy of many balconies that extend out far enough from the ship that people from several decks above can look right down into your "private" enclave. From the Baja Deck, for instance, you can watch other passengers on their Caribe and Dolphin Deck balconies. Caribe occupants can in turn observe their counterparts on the Dolphin Deck.
Grand Princess Things to Do
Entertainment: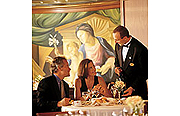 With a dozen or so venues for nightlife, you're virtually assured of finding something that floats your boat, to coin a phrase. There's no faulting the lavishness of the production shows, which feature extravagant special effects. The performers in the cabaret are a talented bunch.

Fitness:
We can't recall having seen superior fitness facilities. The four pools, including a "swim-against-the-current" lap pool, are uniformly gorgeous, thanks in no small part to colorful mosaics and surrounding palm trees. Low marks, though, to whoever decided to put the separate jogging track right above the spa, as the relentless thundering of hooves overhead isn't terribly conducive to one's enjoying her massage or beauty treatment. Even though prices are substantially higher than ashore, spa services are very popular, especially in the afternoon. You'll occasionally have to stand in line for some of the more popular workout apparatuses in the gym. There's a golf simulator and 9-hole putting green, and courts for basketball, volleyball or tennis.
Grand Princess Dining / Dinner
Cuisine:
What can you say about a ship that offers three main dining rooms instead of the usual multi-tiered, bigger than life one? They are more intimate and definitely quieter, but like the Princess "included in the cruise fare" cuisine, they are not likely to elicit a "wow" response either. These main dining rooms predictably offer Princess' Continental-style cuisine unlikely to win any culinary awards, but also elicit few complaints. For gourmet dining, try the alternative option, refined but not snooty, Sabatini's Trattoria for a wonderful selection of Italian antipasti, complemented with such garnishes as Sevruga caviar, delicious pizza, homemade pastas, soups and breads. Salads are tossed before your very eyes, and soup ladled into fresh bread bowls. Seafood predominates on the list of main courses; there are lobster, langoustines, tiger prawns, Chilean sea bass and scallops, with red meat dishes also on offer. Save room for the exquisite Italian pastries that will be wheeled before you toward meal's end.

Restaurants:
The three principal restaurants, Canaletto, Donatello and Bernini Dining Rooms, seating from 486 to 504 passengers, feature hand-painted murals and etched-glass partitions. The drapes and carpeting in the main dining areas absorb sound efficiently enough to preclude diners having to holler across the table to one another.

Personal Choice Dining offers either traditional cruise dining (In the Canaletto), with a set seating time (6:30 p.m. and 8:30 p.m.) and the same waiter and tablemates each evening, or new restaurant-style seating, allowing passengers to dine when and with whom they choose, with each party seated at its own table, as at a restaurant ashore (offered in the other two dining rooms). Restaurant-style diners may be seated in either of the two elegant main dining rooms any time between 5:30 and midnight. Many passengers are understandably grateful for this reprieve from having to hurry to dress for dinner in the traditional way after a long day ashore.

Sabatini's, (surcharge $20 per person) described above, seats 100, the Sterling Steakhouse features Angus beef and other grilled red meats (surcharge $15 per person). The Horizon Court is open 24 hours per day, with menu service at night, plus casual breakfast and luncheon buffet. There's also a festive pizzeria. For $100 per couple, you can book the Ultimate Balcony Dinner, to be served by a butler who discreetly makes himself scarce behind drapes or out in the hall between courses. The ship's photographer snaps a complimentary photo while you're eating.

Service:
While Princess has a well-deserved reputation for good service securely footed in its British roots, truly personalized service may be too much to expect on a ship this size. That noted, cabin stewards and waiters are both efficient and personable. And rote processes that should be standardized and well executed on other ships but often fail miserably, such as efficient disembarkation, are generally practiced and polished to the point of excellence here.

Tipping:
A charge of $10 per person per day (including children) is automatically added to your stateroom account for dining and stateroom personnel. This applies to all passengers, adult and child alike, whether or not they choose traditional or personal choice dining. The amount may be increased or lowered at the Purser's Reception desk during the cruise.

A 15 percent gratuity is automatically added to all beverage tabs. Gratuities for spa, casino and other staff are at your discretion.

Attire:
Seven- to 14-night cruises offer two opportunities to put on the Ritz in formal attire. Many men opt for dark suit instead of tux, while their distaff companions often prefer dressy pants to gowns. The rest of the time, think smart casual.
Grand Princess Ambience
Decor: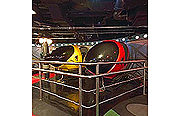 Unlike the theme park atmosphere of some other cruise lines, these Grand-class Princess ships décor bestows a refined, understatedly elegant atmosphere, with hand-painted murals and etched glass partitions in the dining rooms. Little apparent expense was spared on materials, with rich fabrics, beautiful woods, and marble everywhere, all topped of with a $2 million art collection aboard each ship. The cabins are tastefully decorated in soft, inoffensive shades -- beiges, creams and muted pinks.

Public Areas:
The Vista Showlounge presents production shows, cabaret, comedians and magicians. The performers in the smaller lounges are of consistently high quality.

Skywalkers, the real disco, is suspended between two pillars protruding high above the stern, fully 18 stories above sea level. The moving sidewalk you ride up to Skywalkers is one of the most breathtaking views on any ship, and one that many passengers probably never discover.

As with all Princess ships, you will quickly find the Wheelhouse Bar and the Explorers' Lounge offering cabaret, trivia competitions, art auctions, and pre-dinner dancing. Churchill's Lounge, the one-time sports bar, is now behind the casino and is used for the cognac and cigars set. The sports paraphernalia is still there, but seems oddly out of place.

The main gathering spot, the maple-paneled atrium paneled, has boutiques, cafés and public rooms on each of its three levels, all connected by a circular glass staircase. A string quartet adds to the airy ambiance. The gigantic Casino contains some 285 slot machines and gaming tables beyond counting. You can view live sports on ESPN in the Sports Bar, or recline in leather chairs while perusing any of hundreds of books in the beautiful library.

The Internet room on these Grand-class ships do not qualify as "cafés" as there are no café-style treats available. Even worse, there is no tech support and if you can find the printer you may have to fix your settings on your computer to make it work yourself. The connection is generally slow and inconsistent. Sadly, these are some of the worst, and most under-utilized, Internet centers at sea.

Those who want the captain to pronounce them man and wife will meet him in the Hearts and Mind Wedding Chapel, which has much stained glass.

Cabins:
Cabins are built out from the body of the ship so as to permit bigger staterooms. Seven hundred ten of the 1300 staterooms have balconies, ranging up to 257 sq. feet, but they're not very private, as they're in plain view of the occupants of the cabin on the next deck up. Standard inside staterooms are 160 sq. ft., while outside cabins range from 168 to 210 sq. feet. Closet space is minimal except in the suites; leave some things home! Mini-suites with private verandas are 325 sq. feet. Vista Suites, called mini-suites on other Princess ships, range from 515 to 800 sq. feet. Sun and Dawn Princess offer larger minisuites for less money.

All staterooms have color TV with CNN and movies, a radio and small refrigerator, and spacious bathrooms with storage space and hair dryers.