Ruby Princess Facilities / On Board Activities
Dining / Dinner
Entertainment / Recreation
Gratuity Policies
No. of Dinner Sittings:
2

Usual Dinner Hours:
Personal Choice, 6:30pm & 8:30pm

Special Diet:
Available upon request

Dress Code:
May vary from Cruise Casual to Formal.
Bars/Lounges/ Night Clubs - 4
Casino
Library
Movie Theater/Cinema
Photo Shop and Photo Gallery
Pools - Outdoor - 3
Video Arcade
Cabin Steward
$3.00 Per Person/per day

Waiter
$3.00 Per Person/per day

Asst. Waiter
$1.75 Per Person/per day

Headwaiter/Maitre d'
Optional

Wine and Beverage Stewards
15% of Billing
Services
Health and Beauty
Athletic/Exercise Facilities
Barber Shop
Beauty Salon
Laundry/Ironing/Dry Cleaning Service
Tour Office
Drug Store
Massage Room
Medical Center
Sauna/Steam Rooms
Whirlpool Spas - 2
Gymnasium
Ruby Princess Onboard Experience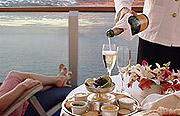 The 1,590-passenger Ruby Princess is a beautiful, contemporary ship furnished with high-quality fabrics, wood and marble plus an impressive collection of modern art. On our most recent cruise aboard Ruby, the cuisine was delicious and the service efficient and warm. A new 24-hour alternative restaurant pleases those who like flexibility in evening dining times. A new kids and teens center has been added in the recent renovations with a fully supervised activities program for the junior passengers.
Ruby Princess Things to Do
Entertainment: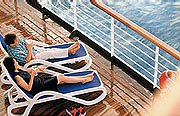 The enormous horseshoe shaped stage which extends into the show lounge, is an excellent spot for production shows and cabaret entertainment. In addition, on our recent Ruby Princess cruise, there was a variety of musical entertainment every evening with seven different entertainers and groups performing in the ship's lounges, in addition to the disco. The classical guitar and string trio were often in the Atrium performing classical music which added to the elegance of the setting. In the dining room, a much appreciated trio played and sang requests as we dined.


Fitness:
Ruby has a well-equipped gym. Two large pools - one with a swim-up bar -- and four whirlpools have plenty of space for sunning. The "Lotus Spa" fitness and well being program includes aerobics and body conditioning classes and seminars throughout the day. Golf excursions are available at some ports, and include transfers from the ship, green fees, and golf carts. A beauty salon, sauna and massage area are part of the spa. There is an excellent selection of spa treatments available, both Asian and traditional.

For Kids:
There is a 2,000 sq.ft. kids and teens center with supervised programs for three to 17 year olds. The program runs from 9 a.m.- 12 p.m.; 2 p.m.-5 p.m. and 7 p.m.- 10 p.m. with group babysitting from 10 p.m.-1 a.m. available for a charge. Educational activities, crafts and games keep the young ones entertained along with scavenger hunts, ice cream and pizza parties. Teens enjoy hanging out listening to CD's, making fashionable beadwork jewelry and there is a Nintendo machine. Once a week they take over the adult disco for their own special night of fun. Parents can come and join the kids in the center. It is an excellent way for parents to meet each other. Pagers are available for parents to wear around the ship so they can be contacted at any time. There is a children's menu in the dining room offering small portions of more basic fare than found on the adults' menu.
Ruby Princess Dining / Dinner
Cuisine:
Princess has worked to improve the level of cuisine, and it shows on Ruby. Pasta was always superb and meats perfectly cooked, although a wider variety of desserts would be welcome. Those who love pizza may make the ship's Pizzeria a daily stop - it is very popular with its freshly made four-slice pizzas.


Restaurants:
Princess offers 24 hour dining with a number of eating areas on board. A new table plan in the dining room creates intimate areas for no more than 40 people with redesigned waiter stations which blend in with the elegant new furnishings, draperies, lighting and cherry wood paneling. The high ceilings and wood columns make the dining room reminiscent of the grand liners of the past. The same elegant styling can be found in other dining areas. Windows have been added to La Patisserie allowing natural light into this area of the atrium. You'll find 24-hour dining at the completely redesigned Lido restaurants adjacent to the pool. Teak floors are now carpeted and the outside dining area replaced with an elegant bistro. This alternative dining area offers buffet breakfast, lunch and snacks with open seating bistro dining in the evening. A new galley was added in order to prepare meals to order. Candlelight, piano music and dancing on the new floor make this a most romantic spot for dinner. Outside, closer to the pools, the hamburger and salad bars are found. The pizzeria is very popular serving superb pizza in a charming setting with red, Italian motif table cloths and vegetable strings suspended from the ceiling.


Service:
The multi-national staff does a good job of keeping passengers pleased and on a recent cruise aboard Ruby Princess, staff were warm, attentive and efficient.


Attire:
Daytime dress is casual. Evenings are designated smart casual or formal. On formal nights, ladies wear evening gowns or cocktail dresses and men wear tuxedos, dinner jackets or dark suits. During a seven to 14-night cruise, expect two formal nights.
Ruby Princess Ambience
Decor: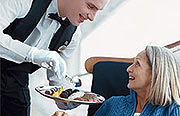 Ruby's decor in many shades of teal and rust throughout the ship is very pleasing. The atrium and dining areas were redesigned in the major refit in 2000 and a 2,000 sq. ft. kids and teens center was added on deck 14 aft. Here children from three through 17 are well entertained with supervised programs.

Princess stands out in its million dollar art collections, and Ruby has some of the best. You'll find the work of David Hockney, Frank Stella and Robert Motherwell adorning walls. Numerous stunning wall murals based on Italian Riviera and tropical themes have been added throughout the Ruby in pleasing, pastel shades.

While Ruby is elegantly styled, there is little visual connection with the sea. Those without private balconies must go to the outside deck space on promenade and lido decks or aft on the top four decks. There is no forward facing deck space.

The two self-service laundromats were well used during our recent Ruby Princess cruise. There is no charge to use the machines. Detergent, bleach and drying sheets can be purchased from a machine. The laundromats also have ironing boards and steam irons as well as a soaking tub.



Public Areas:
The heart of Ruby is the three-story atrium, light-filled area with a curving staircase ascending to other decks. The ship's "town square", you'll find live greenery, cozy seating and shops on higher levels - a wonderful spot for people watching at night. Stop for coffee and a delicacy at La Patisserie on the main level or try a new vintage at the sophisticated champagne and caviar bar on level-three. The two-level show lounge is the setting for lavish production numbers, comedians and magicians. You'll find an ample number of cocktail lounges and bars aboard these ships with varying motifs, ranging from art deco to tropical. Panoramic viewing is found in the Dome observation lounge, its floor-to-ceiling windows affording 270-degree views. It is also home to the casino which makes it lively and noisy.


Cabins:
You will find comfortable cabins aboard Ruby, all boasting refrigerators, color TV with CNN, ESPN, terry-cloth robes and good-size bathrooms with hair dryers. Standard cabins are a generous 190 sq. feet while 134 staterooms have small private verandas. On Dolphin Deck, 26 cabins have obstructed views, and should be discounted. Mini-suites have separate seating area, small balcony and bathroom with tub/shower. The top category is the suite with private balcony, including a separate bedroom, dressing/vanity area and marble bathroom with tub and separate shower.