Brilliance Of The Seas

Facilities / On Board Activities
Dining / Dinner
Entertainment / Recreation
Gratuity Policies
No. of Dinner Sittings:
2

Usual Dinner Hours:
6:15 and 8:30

Special Diet:
N/A

Dress Code:
Varies each evening
Art Gallery
Bars/Lounges/ Night Clubs - 9
Card Rooms
Casino
Library
Movie Theater/Cinema
Nautica/Spa
Photo Shop and Photo Gallery
Pools - Indoor
Pools - Outdoor - 2
Sports Deck
Video Arcade - 2
Whirlpools - 3
Waiter
$3.50 per person per day

Asst. Waiter
$2.00 per person per day

Cabin steward
$3.50 per person per day
Services
Health and Beauty
Athletic/Exercise Facilities
Barber Shop
Beauty Salon
Dry Cleaning
Laundry/Ironing/Dry Cleaning Service
Photo Processing
Doctor's Office
Hair Stylist
Massage Room
Sauna/Steam Rooms
Aerobic and Exercise Room
Climbing Walls
Fitness Center
Golf Simulators
Health Club
Sports Court
Weight Training Equipment
Brilliance Of The Seas

Onboard Experience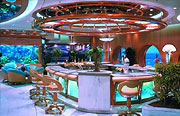 The Brilliance (and her sister ships in the Radiance Class - Radiance, Jewel, Serenade), at just over 90,000 tons, offers an excellent alternative to her much larger cousins, Royal Caribbean's Voyager and Freedom Class mega-ships, while still being large enough to provide all the amenities we've come to expect from modern cruise ships.

There's no shortage of activities, from standard daily trivia games, to craft classes, dance lessons, guest lecturers, and passenger participation games; yet there are plenty of spaces where one can escape the frenzy to relax, read, or just watch the seas go by. Professional entertainment on board was varied and enjoyable.

One special event we found to be great fun was the Murder Mystery Dinner, held in conjunction with Portofino's, the alternative restaurant. Though the $49.50 per person cost was high, it did include gratuities, pre-dinner champagne, and wine with dinner.

The ship's abundant announcements pushing bingo games and art auctions are a distraction. And the lack of poolside patio-style tables and chairs in the open-air central pool area is a disappointment. These types of furnishings are used inside the Solarium, and a large number are on the stern, aft of the Windjammer Cafe (though these are covered with awnings and primarily used for al fresco dining). Both fore and aft of the Windjammer Cafe are indoor areas set with lanai-type furnishings (faux wicker sofas, with coffee tables) that set a relaxing atmosphere.

Staff and crew are friendly and helpful to a fault, and any reasonable request was accommodated without hesitation.

One rather irksome quirk on this ship is the lack of self-serve drink stations except for coffee or water. All other drinks are pre-poured and available from only two stations well inside of Windjammer Cafe. (Inside the Windjammer Cafe, servers do circulate with trays of non-alcoholic drinks as well.)
Brilliance Of The Seas

Things to Do

Entertainment: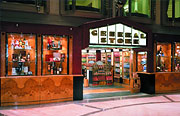 The Pacifica Theater is the ship's main show room. The production shows with the ship's production crew were well received. The variety in the type of acts chosen as headliners was among the most diverse we've found on a cruise ship.

The daily entertainment at the Lobby Bar packed them in nightly, with rotating musical acts. A variety of musical entertainment is offered each evening in lounges around the ship, and of course the DJ spins tunes in the disco late into the night.

One of the most entertaining evenings we spent was participating in the Murder Mystery Dinner at Portofino's, with many cast members from the production crew acting the parts. It is very much an interactive evening with guests and actors, and highly recommended.

Fitness:
The 15,500 sq. ft. ocean-view ShipShape Spa comprises three sections: a beauty and health center with 12 treatment rooms, including Rasul and thermal suite ($15 for a half-hour); an aerobics area with mirrored wall and a wooden suspended aerobics floor; and the gym, with 18 treadmills, 10 Reebok Recumbent Cycles, eight Reebok Body Peaks, four Reebok Ridge Rocker Cycles, four Reebok Body Treks, free weights, and multiple benches. TV monitors and stereo sound are available throughout. Scheduled fitness activities include stretching and aerobics classes and aqua-dynamics. The famous Royal Caribbean rock-climbing wall rises 200 feet above the sea with five separate climbing tracks. The Sports Club & Country Club has golf simulators, ping-pong, a basketball court and deck games. There's even a nine-hole miniature golf course and a jogging track.

For Kids:
"Adventure Ocean" is the name of Royal Caribbean's youth programs, where children are separated into five age groups: Aquanauts (age 3-5, must be toilet trained), Explorers (6-8), Voyagers (9-11), Navigators (12-14) and Teens (15-17).

Facilities open 30 minutes before morning shore excursions depart so parents can drop off their children before they leave the ship. On sea days, organized activities are offered from 10 a.m. to 10 p.m., with group babysitting available from 10 p.m. to 1 a.m. for a fee. The program runs year-round in the Caribbean, Bermuda, Bahamas, Mexico, Hawaii and Alaska. Teen centers are now open past 2 a.m.

A new program developed with toy maker Fisher-Price offers 45-minute playgroups for children six months to three years old when accompanied by an adult. The program involves storytelling, creative arts, music, and a variety of Fisher-Price learning toys and games.

Private babysitting is offered from 8 a.m. to 2 a.m., provided sitters are available, for children from one year old. The rate is usually $8-$10 per hour depending on the number of children in the family. Cash payment is made directly to the sitter. Arrange through Guest Services at least 24 hours in advance.
Brilliance Of The Seas

Dining / Dinner

Cuisine:
The main dining room food is as good as on any of the mass market lines, though only one salad is offered on the daily menu (besides the always-available Caesar). The ship has two alternative dining venues. Chops offers delicious steak-house food with delectable presentation. The $20 per person surcharge includes the service fee at Chops, and at the other alternate restaurant, Portofino's, which features Italian cuisine.

Brilliance schedules a special Murder Mystery Dinner on two evenings in Portifino's, which requires reservations. The price for the combined dinner/theater is a dear $49.95 per person, but it includes a pre-set wine selection.

Food offerings at the buffet in the Windjammer Cafe were less than appealing, even for buffet food; this is another area that could use some attention.

Restaurants:
The Minstrel Dining Room is a glamorous two-story space amidships, with a grand staircase, large pillars, and lovely, high-end furnishings. In addition to dinner service, it is available for open-seating breakfast and for lunch. At lunch, it now offers "Brasserie 30" -- a set menu that does not change day to day, but promises that diners will be in and out in 30 minutes.

Breakfasts, lunches and casual dinners are offered in the Windjammer Cafe. The physical setup at the Windjammer works very well, with separate service islands for different parts of the menu -- e.g., for lunch, burgers/hot dogs/condiments, salads, sandwiches, a carving station, pizza, and yet another that alternates between Asian, Chinese and Thai offerings.

An alternate choice for lunch and snacks into the evening is the SeaView Cafe, aft on Deck 12. With both indoor and outdoor seating, it offers salads, pastas and pizza.

Inside the Solarium is the Solarium Cafe, offering freshly made sandwiches, salads and pizza.

The ship's two alternate restaurants (with the $20 per person surcharge) are on Deck 6, Chops and Portofino's. Both are lovely settings offering first class service. Chops features a steak-house menu, while Portofino's offers Italian food.

Service:
The multinational staff and crew clearly enjoy watching passengers enjoy themselves. They're uniformly cheerful, knowledgeable, and eager to help. The wait staff in every restaurant is noticeably solicitous and conscientious. Cabin service staff is efficient but unobtrusive. The purser's desk is notably responsive; especially in view of how much troubleshooting they must do on a ship this size. Even room service is prompt and delivered with a smile.

Tipping;

Royal Caribbean suggests a per person, per day gratuity of $3.50 for the stateroom attendant ($5.75 if sailing in a suite), $3.50 for the waiter, $2.50 for the assistant waiter, 75 cents for the headwaiter. These gratuities may be paid in cash or charged to your onboard account. For children sailing as third or fourth passenger in the stateroom, tipping is at the parents' discretion.

A 15 percent gratuity is automatically added to all beverage tabs. Gratuities for room service, spa, casino and other staff are at your discretion.

Attire:
There were two designated formal nights during our 11-night cruise. The others are split between suggested dress codes of smart casual and casual, but the line between the two seems to be disappearing, and on evenings designated as smart casual the majority of men opted out of wearing jackets.
Brilliance Of The Seas

Ambience

Decor: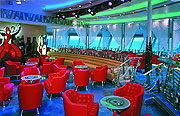 The ship never feels crowded, and her interior design is elegant and soothing to the eye. Combining this with abundant glass in all public areas, connecting you to the sky and the seas, makes for almost perfect cruise surroundings.

The cabin decor, in navy blue and copper, establishes a rich and relaxing atmosphere.

Design elements in the ship's public rooms is varied and interesting. The elegant Champagne Bar, just off the Centrum, is done in a combination of tan and pink tones with decorative glass work, giving it a retro ambience and the feel of classic cruising. A bit further aft, the Schooner Bar, with dark wood paneling and pillars and rich blue carpet shades, is decorated with sailing masts and ropes, setting a nautical tone.

A different atmosphere is present in the huge, low key Colony Club. A safari decor, complimented by dark wood paneling, gives this area the feel of an old British gentlemen's club.

For still another choice, step into the present day in the Sports Bar on Deck 6, decorated with sports memorabilia, lots of large screen TVs, and a circular bar with overhead lighting, featuring various glass team pennants with lights continually running from one to the next.

Public Areas:
The heart of the ship is the lobby bar on Deck 4, at the lowest level of the Centrum, where an ensemble performs each night. This is the spot people seem inclined to congregate. During the day this area is often used for cooking demonstrations, lessons on creating towel animals, etc.

At the bow on Decks 4 and 5 is the ship's main showroom, the Pacifica Theater. With plush burgundy and rouge toned individual seats, complete with cup holders, and unobstructed sight lines, the theater is an excellent venue for the ship's productions and headliner acts.

Two decks above on Deck 6, the low-key Champagne Bar offers panoramic views of the seas through floor-to-ceiling windows.

Also on Deck 6, the Bombay Billiards Club has the first pool tables at sea - very high-tech pool tables at that. Each one is balanced on a gyro-style ball bearing the size of a grape; the table may move as the ship rocks, but the balls will remain in place.

Another Deck 6 lounge is the natty Schooners, with marine blue chairs accented by real teak, along with nautical antiques and reproductions. In the adjacent Colony Club is a large dance floor and stage suitable for a variety of entertainment.

Forward on Deck 6 is the Casino Royale, where slots and video gaming dominate the large space, with lights, bells and whistles inviting passengers to contribute. Table games, a craps table, and roulette wheel call out to those who prefer more social gambling. One blackjack table is currently used for the ever more popular Texas Hold 'Em (and plans are afoot to begin hosting Texas Hold 'Em tournaments, but they aren't set yet).

A small but well-stocked library on Deck 8 faces the atrium, and feels like a traditional study. The library is open 24 hours per day, and operates on an honor system -- passengers sign books out and back in when returning them.

Close by is the tiny Crown and Anchor Club, but don't miss it: You can stand on a glass platform with a view of the entire atrium beneath your feet.

High atop the ship on Deck 13, the traditional Royal Caribbean Viking Crown Lounge offers a near-360 degree panoramic view. On Brilliance, it is divided into the StarQuest disco and Hollywood Lounge, a low-key room with a small stage for performances.

The Hollywood Lounge serves as the ship's cigar bar -- the only indoor location, other than private cabins, where guests may smoke cigars or pipes.

Forward on Deck 5, off the Centrum, Brilliance boasts a more upscale shopping area than other Royal Caribbean ships, including designer-branded fashion wear and a brilliant jewelry store. Near the Internet area is a small coffee and pastry shop with the unforgettable name of Latte'tudes. One of the best features of the ship is the cinema, which shows two features per day.

Smoking on Brilliance is quite restricted in public areas, with no smoking allowed at all in the Pacifica Theater, Mistral Dining Room, Chops and Portofino's restaurants, Windammer Cafe and SeaView Cafe, nor on Deck 4 in the Centrum lobby, nor in public areas on Deck 5. Smoking is also not allowed in the Champagne Bar. There is a small smoking section tucked into a corner at the back of the Schooners Bar, and likewise in the Colony Club and StarQuest Disco.

On outdoor decks, smoking is restricted to the starboard side. Smoking is allowed in passenger cabins, as well as private balconies. Contrary to some beliefs, there are no non-smoking cabins available.

There are two swimming pools on Deck 11. The Solarium is a tranquil, glassed-in pool area with an African theme and three enormous plaster elephants overlooking the pool. You'll hear bird and animal sounds through the towering tropical plants. The Solarium Cafe offers a variety of salads, a couple of sandwich choices and pizza.

The open-air central pool and surrounding sun deck are bit small, so the space can feel crowded on sea days. However, there are plenty of sun loungers and open spaces one deck up, on Deck 12. I'd love to see some patio-style furnishing (tables and chairs) in an open-air deck area. The central pool area has only two tables with chairs, and they are tucked into a hallway on the starboard side leading to the Windjammer Cafe.

Indoors, both aft and forward of the Windjammer Cafe are areas with lovely faux wicker style sofas and coffee tables -- excellent spots to relax, read, or socialize. If this same concept could be transferred to an outdoor area it would be most impressive.

Another item for improvement is the lack of self-serve drink machines anywhere. At the stern, outside the Windjammer Cafe, is a self-serve coffee machine. However, there are no juices, iced tea, lemonade etc, at all. For any drinks other than liquor, one must go inside the Windjammer Cafe to the two drink counters, where drinks are set out pre-poured. I think this is very inefficient. Maybe they think the lack of self-service soft drinks will incline passengers to order more alcoholic drinks at the pool-side bar.

Aft on Deck 12, are indoor and outdoor kids' areas -- the Ocean Adventures Club, complete with kiddy pool and a small water slide. Further aft is the SeaView Cafe, with indoor and outdoor seating. The menus at the SeaView were recently changed; it now only offers salads, pastas, and pizzas.

Above on Deck 13, also aft, there's a rock climbing wall, sports deck, and mini-golf course -- all free for passenger use. On Deck 12 around the pool deck is a walking/running track. Eight laps equals one mile.

Cabins:
Of the ship's 1,050 staterooms, 813 have ocean views and 577 private verandas. Standard features in all cabins include refrigerator/mini-bar, hair dryer, interactive TV, telephone, computer jack, and a large closet and plenty of drawers. In standard and most balcony cabins, bathrooms have a shower and one large medicine cabinet. There are also such welcome touches as beds with rounded corners and lighted vanity tables with mirrored cabinets. Tubs are found only in the highest category staterooms; most bathrooms only have showers (though large ones) and medicine cabinets. There are even full-length mirrors in the "superior" category cabins. There are 14 wheelchair-accessible staterooms.

Brilliance has some of the best balcony cabins at sea; for the very best, look to the aft cabins on Decks 7-10, where the Cat. D rooms have the largest balconies on the ship (13 x 9.5 ft.). There are steel walls between balconies instead of the glass common on the rest of the ship. Overall, staterooms on this ship are larger than the average Royal Caribbean cabin. While inside cabins measure only 165 sq. ft.; outside cabins range from 170 to 204 sq. ft., and the five categories of suites from 293 to 1,001 sq. ft.

Brilliance had just completed the replacement and upgrading of beds, linens, and pillows during our time on board, and new duvets to replace the sheets and blankets previously used were due the following week.