Freedom Of The Seas

Facilities / On Board Activities
Dining / Dinner
Entertainment / Recreation
Gratuity Policies
Usual Dinner Hours:
6:15pm, 8:30pm

Special Diet:
Upon Request

Dress Code:
In the evening, there are three distinct types of dress onboard: casual, smart casual and formal.
Bars/Lounges/ Night Clubs
Ice Rink
Whirlpools
Suite attendant
$5.75 USD a day per guest

Stateroom attendant
$3.50 USD a day per guest

Dining Room Waiter
$3.50 USD a day per guest

Assistant Waiter
$2.00 USD a day per guest

Headwaiter
$.75 USD a day per guest
Room Amenities
Children
Athletic/Exercise Facilities
Color TV
Youth Center
Fitness Center
Rock Climbing Wall
Freedom Of The Seas

Onboard Experience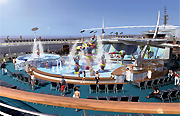 Freedom of the Seas, at 160,000-ton, is now officially the biggest cruise ship in the world. She is an expanded, though virtually identical version, of RCI's popular Voyager-class ships, but with more happening on the top sports and pool decks.

One of the first differences you will notice is the H20 Zone, a children's water park with enormous, brightly colored figurines spouting sprays of water. The adults-only pool area has two cantilevered whirlpools extending out from the side of the ship. Each holds at least a dozen people plus four hammocks. The next attraction is the "FlowRider" a water wave generating machine that send a constant curl down a hill that an expert surfer can (supposedly) ride until the power runs out. The rock climbing wall is taller than on the earlier ships, with more toe-holds.

At 445 feet long, the Royal Promenade is a bit longer and a bit wider than the little sister ships. Here you'll find the boutiques found on the Voyager class vessels, including a Ben and Jerry's ice cream stand ($2.50 per cone); a wine bar; Seattle's Finest Coffee ($2.50 per cappuccino); the Book Nook, with best sellers and guidebooks for sale; and A Close Shave, charging an outrageous $72 for a shave. The English-style Bull and Bear is for beer lovers, it features a live acoustic guitarist playing favorites, and Sorrento is a pizzeria.

This is a real people-watching ship; even those who can't do all of what the Freedom offers seem to enjoy watching those who can. The 40-foot-high rock-climbing walls are busy all day. There is an ice-skating rink for recreational skating as well as for Ice Capades-type shows, and a curvaceous rollerblading track on the open decks. There's a three-story dining room, one of among the biggest casinos at sea, and a 9-hole miniature golf course. A "first" on Freedom is a dedicated lab space for the Atmospheric and Oceanographic Laboratories, providing experts with tools to monitor all kinds of important oceanic metrics. They also offer hands-on demonstrations, interaction with scientists and such displays as a touchable iceberg to passengers.

There are a full three miles of public corridors, but the hallways are occasionally "jiggered" so you don't get a sense of the full distance, plus excellent signage precludes anyone getting too grievously lost. However, after a simple "let's go see the ship!" comment leads you out the door, by the time you return to your cabin you will feel like Marco Polo. The 500-foot-long, over three-lanes-wide four-deck-high Royal Promenade is all too evocative of an onshore mall. The promenade is lined with the Cork & Kettle English Pub, a 24-hour cafe for pizza and pastries; a sports bar; and shops displaying their ship's logo items outside to designer merchandise by Versace, Bulgari, and Lladro inside.

There is a $4.25-per-scoop Ben & Jerry's. Pay-per-view in-cabin movies are $11.95, and there's actually an admission charge to Johnny Rockets (although the burgers are free, and worth every cent). There's a $20 surcharge for the small alternative restaurant Portofino which honestly has not earned as much praise as the alternative dining on other megaships. The Aquarium Bar boasts 56-ton salt water tanks tanks holding hundreds of tropical fish; there is a clubby cigar lounge; the nautical-inspired Schooner Bar; a well-stocked library; the Card Room; the Champagne Bar; and the Skylight Wedding Chapel (at the highest point on the ship, on Deck 15). An Internet Center, royalcaribbeanonline, is open 24 hours. (basic charge is 50 cents a minute). There is no self-service launderette.
Freedom Of The Seas

Things to Do

Entertainment: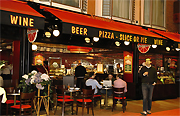 The ship's "name" performers - take Charo (please!) for example - are likely to have peaked in popularity well before Johnny Carson left the Tonight show. The magicians and stand-up comedians in the lounges are generally "up and coming," possible future stars and are accordingly pleasingly diverting. A roving quartet of "Krooze Komics," performs elaborate acrobatics shows and impromptu physical comedy in the Royal Promenade. The Vegas-style production shows, especially clever in their special effects, rival Carnival's for the best at sea.

Fitness:
The ship's well-equipped gym still draws serious fitness buffs with its full range of state-of-the-art machines. The two-level Steiner Spa, with its winding staircase, looks more like the lobby of a boutique hotel, albeit with a Greek motif. It houses a small attractive thalassotherapy-like pool in an airy glass-enclosed but private semi-circular room. The Solarium's serene outdoor pool area nestles behind the spa; you're surrounded there by fountains, foliage, and statues, with a retractable glass ceiling overhead.

For Kids:
The "Navigator Ocean" youth program has age-specific facilities and programs supervised by youth counselors for Aquanauts (age 3-5, must be toilet trained), Navigators (age 6-8), Navigators (age 9-11), Navigators (age 12-14) and Teens (age 15-17). The program runs year-round in the Caribbean, Bermuda, Bahamas, Mexico, Hawaii and Alaska. Parents can leave their children at Navigator Ocean while they take shore excursions. For this purpose, the facilities open 30 minutes ahead of morning shore excursion departures. Otherwise, organized activities are offered from 10 a.m. to 10 p.m., with group babysitting from 10 p.m. to 1 a.m. for a fee. Teen centers are now open past 2 a.m. Teens will find their own private coffee house and disco.

A new program for infants and toddlers 6 months to 3 years, in partnership with toy maker Fisher-Price, offers 45-minute playgroups for children accompanied by an adult, involving storytelling, creative arts, music and a variety of Fisher-Price learning toys and games.

Private babysitting is offered from 8:00 a.m. to 2:00 a.m., provided sitters are available, for children from one year old. The rate is usually between $8.00 and $10 per per hour depending on the number of children in the family. Cash payment is made directly to the sitter. Arrange through Guest Services at least 24 hours in advance.
Freedom Of The Seas

Dining / Dinner

Cuisine:
Mouthwatering descriptions on the menus notwithstanding, you just won't hear people raving about the food. Choices can feel somewhat limited and not very imaginative.

Restaurants:
The ship's elegant main restaurant features a crystal chandelier a grand, two deck staircase. The three decks it spans are separately named for famous operas; Carmen, La Boheme and the Magic Flute. The ship's second most popular dining venue (though it is more of a lunching venue) is Johnny Rockets, which now carries a $3.95 service charge, and in which you might have to wait to be seated. The vast Lido deck restaurant for casual buffet-style meals is cleverly designed to look like two individual eateries, minimizing the sense of size and crowds. Portofino, the alternative Italian restaurant, is a lovely intimately-lit venue, though you might, if you're not attentive, realize you've got your fork in an adjacent diner's salad; the tables are that close together.

Service:
It's obvious that the multinational staff and crew enjoy watching their passengers enjoy themselves. They're uniformly cheerful, knowledgeable, and eager to help. The wait staff in every restaurant is noticeably solicitous and conscientious.

Cabin service staff is efficient but unobtrusive. The purser's desk is notably responsive, especially in view of how much troubleshooting they must have to do on a ship this size. Room service, though, can be pretty slow.

Tipping:
Royal Caribbean suggests a per person per day gratuity of $3.50 for the stateroom attendant ($5.75 if sailing in a suite); $3.50 for the waiter; $2.50 for the Assistant Waiter; .75 Head Waiter. These gratuities may be paid in cash or charged to your onboard account. For children sailing as third or fourth passenger in the stateroom, tipping is at the parents' discretion.

A 15 percent gratuity is automatically added to all beverage tabs. Gratuities for room service, spa, casino and other staff are at your discretion.

Attire:
There are two formal nights per cruise. Maybe it's this ship's particularly festive reputation that induced most men onboard our sailing to don actual tuxedos for formal nights. A dark suit is just as appropriate. In general, though, this ship offers so much to do onboard that passengers don't all dress alike.
Freedom Of The Seas

Ambience

Decor: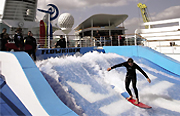 Clean, simple and tasteful, featuring a lot of Art Nouveau influence, seems just right for a ship this size. The atrium boasts a beautiful fiber optic sculpture rising several stories. The ship's well-placed art is surprisingly sophisticated. Particularly notable are the Georgian-style dining rooms, a stunning tucked-away lounge for smokers called the Connoisseur Cigar Club (to which you'll have to ask directions); and the elegant Champagne Bar, with curvaceous champagne-colored leather banquettes.

Public Areas:
The breathtaking Royal Promenade -- four decks high, longer than a football field, wider than three lanes of traffic -- has no windows, but is always dazzlingly illuminated, as only befits a venue for Mardi Gras-style parades complete with stilt walkers, a swaying inflatable dancer, streamers and confetti.

The enormous Casino Royale, through which passengers must pass to get to the main show lounge, is gilded to within an inch of its life, with nearly 300 slots and tables for blackjack, craps, roulette and Caribbean Stud Poker. The disco pulses into the wee hours. Floor-to-ceiling seawater tanks teeming with Day-Glo tropical fish flank the Aquarium Bar. The well-stocked two-deck library, which feels like an urban bookshop, provides seating along its glass wall for an overview of the Royal Promenade. The Viking Crown Lounge is perched 14 decks above the ocean. You can get married in port in the ship's Wedding Chapel, bringing up to 60 of your closest friends and families.

The gorgeous La Scala Theater, a state-of-the-art 1,350-seat show lounge, features such decorative elements as a Murano glass chandelier and a jewel-bedecked velvet stage curtain.

That ice rink you hear so much about is a two decks below the atrium and right in the middle of the ship, which means some fancy footwork is sometimes required to get to other public areas. In fact, the great and spacious interior of the ship is almost completely surrounded by private cabins, so to get any look at the ocean at all you'll have to head for the cluster of lounges on the upper decks or outside on the decks themselves.

Amply decked out with recliners, the pool areas bustle with activity and also are the staging area for fashion shows and planned games. The real action takes place on the sports deck, where fitness fans work up a sweat playing ping-pong or basketball or rock-climbing. Families flock to the open-air 9-hole miniature golf course

The best spots for being alone with a book during days at sea are the sea view Seven of Hearts card room and Cloud Nine Lounge on Deck 14. Serious misanthropes can retreat all the way up the curving stairway to Deck 15's Skylight Chapel, where no one ever ventures, and where no music is piped in.

Cabins:
Royal Caribbean is known for small cabins, inside cabins are just about big enough to turn around in. Hats off to Royal Caribbean, though, for not skimping on balcony cabins. Actually, cabins are roomier than elsewhere in RCI's fleet. Inside cabins do measure a stingy 160 sq. ft; but outside cabins range from 180 to 265 sq. ft. and suites from 610 to 1188 sq. ft. Moreover, there's lots of storage, especially nice for a ship that essentially goes nowhere. Standard amenities include color TV with CNN and movies; a safe; individual temperature controls; and RCI's first hair dryers. There are tubs only in the highest category staterooms' bathrooms; most have just showers (though unexpectedly large ones) with medicine cabinets.